Crushing dissent: NGOs under threat in India
Can NGOs and India's political opposition stop Modi's civil society clampdown?
---
---
Non-governmental organizations (NGOs) in India have been put on notice. By recently denying entry to Greenpeace and placing the Ford Foundation on its watch list, the Modi government has sent a clear message to all NGOs: be very, very careful. "The target is not just Greenpeace," says Anil Chaudhuri, coordinator of Indian Social Action Forum (INSAF), "but also the thousands of smaller NGOs working with communities in tribal areas and forests."
The effect has been profound. Locating the offices of smaller Indian NGOs is becoming more difficult as many remove their signage. "We don't want to draw attention, as [we] never know when a policeman or … official [will] come and trouble us,'' said the director of a small NGO in North Bengal that works closely with the police to rescue young girls from traffickers. His is not a foreign funded outfit, but the fear of being targeted has permeated the entire Indian NGO community.
Of course, neither the Ford Foundation nor Greenpeace will really be affected; they are too large and established. Instead, those feeling the most impact will be the smaller outfits who cannot defend themselves and can't work without outside help. According to Lenin Raghuvanshi, founder and director of the Peoples' Vigilance Committee on Human Rights (PVCHR) in Uttar Pradash, many smaller groups will shut down without foreign aid. Those most at risk are working against discrimination, a topic India's upper castes typically refuse to support.
What is driving India's civil society clampdown? Prime Minister Modi swept to power in May 2014 on an economic development platform, promising acche din (better days) for all Indians. He was massively funded by a corporate India tired of the previous government's economic non-performance. With unwavering faith in Modi, Indian industry is looking to smooth the way towards land acquisition and subsoil mineral access, both of which are often found in tribal areas across the country.
Modi has travelled widely, exhorting foreign businessmen to "make in India" and turn the country into a manufacturing hub. Clearly, he ignores the hypocrisy of courting foreign investment while restricting NGOs from doing the same. Still, foreign direct investment (FDI) has not increased significantly, and overseas businesses say there is still no sign that doing business in India is getting much easier. Modi's National Democratic Alliance knows that unless it creates sufficient jobs, its popularity will suffer, and so the government sees NGOs, especially those in the environmental sector, as an impediment to growth.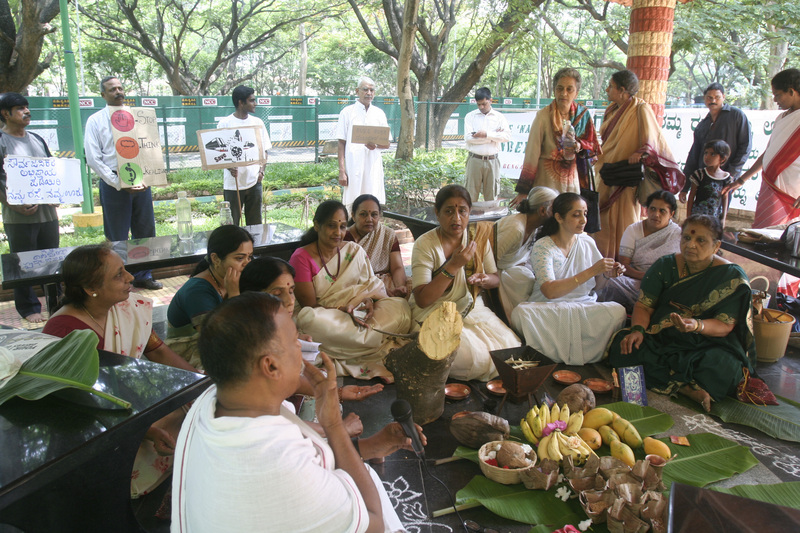 Demotix/Nishant Ratnakar (All rights reserved)
An Indian NGO highlights the environmental consequences of a commuter rail line project in Bangalore by holding a funeral for felled trees in the train's path.
---
"This government…is driven by corporate interests and feels NGOs are against development," explains NGO leader Raghuanshi. He rejects the claim, however; "We want development," he says, "but not at the cost of marginalised communities or …the environment."
'We want development, but not at the cost of marginalised communities or …the environment.'
Indian officials are also pursuing action against activist Teesta Setalvad and her husband, Javed Anand, both civil rights activists and journalists in charge of Sabrang Communications, a group dedicated to fighting India's societal divisions. Sabrang publishes a monthly magazine, Communalism Combat, and runs a program called Khoj, which teaches tolerance and secular values to Mumbai school children. Setalvad and Anand are also trustees of Citizens for Justice and Peace (CJP), a group that offers free legal aid and is currently a co-petitioner seeking criminal charges against Modi and 62 other government officials for their involvement in the Gujarat violence of 2002.
In 2006, Ford Foundation gave $200,000 to Sabrang, and NGOs speculate that the government has targeted the New York-based donor because of this grant. Since 2010, the police have repeatedly charged Sabrang director Teesta Setalvad with all manner of legal violations.
Attacks on environmental NGOs are not entirely new, however. Prior to Modi's election, the Congress-led government had a similar mind-set, especially when dealing with anti-nuclear activists. In fact, it was Congress that created the first laws restricting foreign donations to local NGOs in 1976, and Congress once again tightened that law in 2010. Over the years, all manner of governments have used these laws to harass local non-profits.
The government often catches NGOs out because many do not have the proper training or knowledge to fill out legal forms or file paperwork. As a result, official investigations typically do reveal violations.
And yet, former Congress leader Sonia Gandhi launched her government in 2004 by packing her National Advisory Council with NGO representatives. In fact, her son and Congress General Secretary Rahul Gandhi met representatives of several NGOs this week, including Greenpeace activist Priya Pillai. Now that Rahul has declared his support for India's NGOs, the Congress party is likely to challenge the Modi government. "This kind of crackdown on NGOs is neither acceptable in our democratic society, nor appropriate or healthy for democracy," says Congress spokesperson Randeep Surjawala.
If India's NGOs unite against official harassment, and if Congress parliamentarians lend their support, Modi's government may find it increasingly hard to crush dissenting voices.
ORIGINALLY PUBLISHED: July 15, 2015
---
Seema Guha is a New Delhi-based freelance journalist writing on Indian foreign policy. She also works as a commissioning editor for openGlobalRights.
---