History, art, and experiential learning as a platform for human rights education and advocacy in the United States and Hungary
The Minnesota Model calls on human rights practitioners to build community across national borders and challenge assumptions based on disciplinary knowledge.
---
---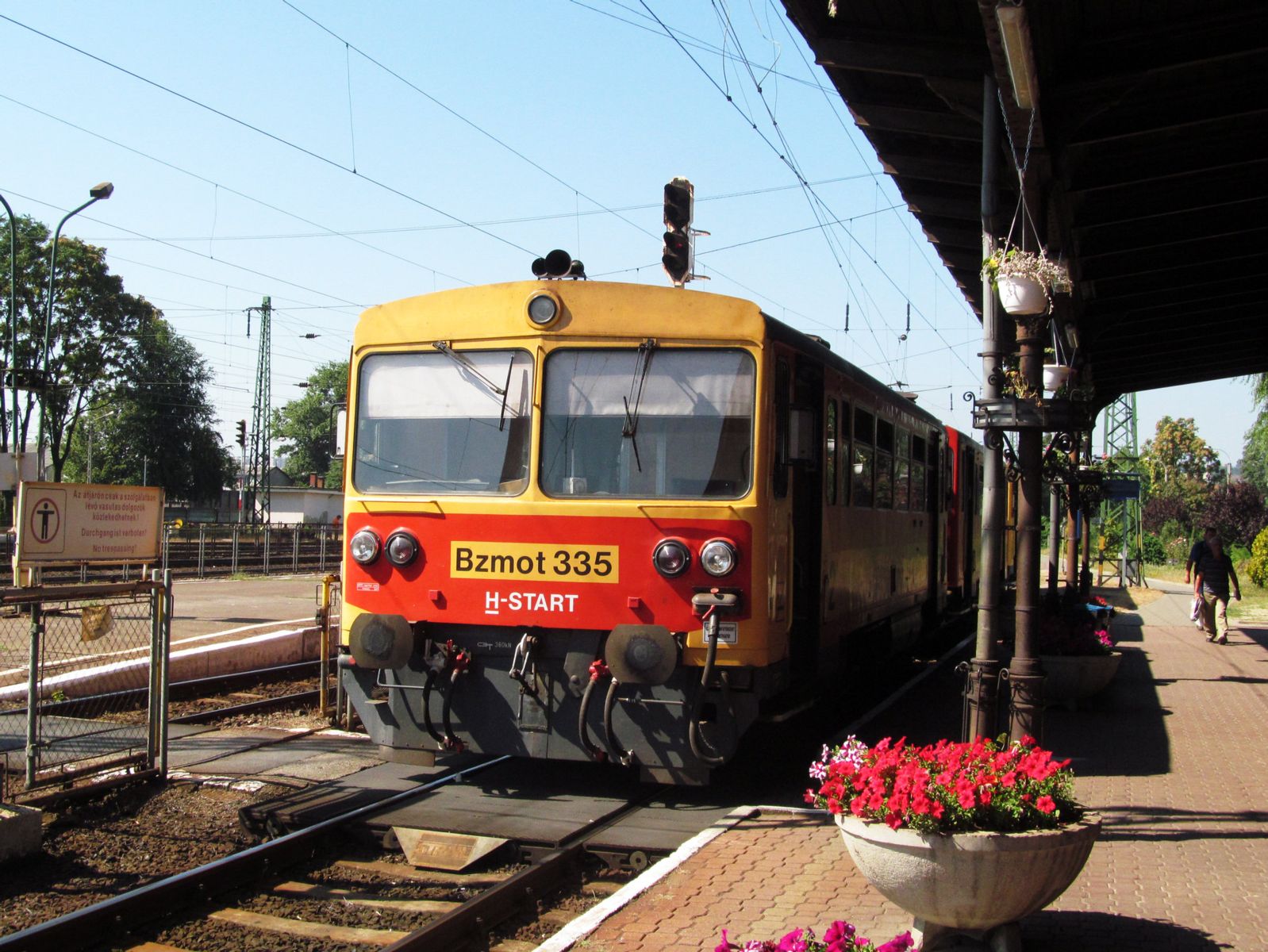 A train is stopped at the Tiszai railway station, where Jewish citizens were rounded up during the Holocaust from nearby homes and factories and deported on trains. tramfan239/ (CC BY-NC 2.0)
---
Divisive messages aided by social platforms and mainstream media gradually take root to demonize marginalized groups while undermining functional democracies. We are all vulnerable to the constant barrage of (mis)information, but young people face a unique challenge sorting through the polarizing rhetoric, often without the historical context necessary to place the current moment in perspective. Against this backdrop, human rights education and advocacy can provide a necessary counter-balance, encouraging young people to seek alternative perspectives and play an active role in resisting measures that threaten democratic freedoms.
With support from the University of Minnesota Human Rights Lab, we began a multidisciplinary collaboration to develop a model for localized, place-based human rights education in Hungary, where the ruling right-wing Fidesz-KDNP coalition has consolidated control over parliament, regulatory branches of government, and mainstream media outlets. Hungary is part of a larger trend toward constitutional decay in Central and Eastern Europe, where other right-wing governments have arrived in power.
Our project builds on Kirs's advocacy work at the Budapest-based Hungarian Helsinki Committee (HHC), a leading nongovernmental human rights organization in Central and Eastern Europe. In 2019, the HHC received U.S. Embassy funding to develop a youth-based human rights seminar, and Kirs began work on the curriculum during her time as a Fulbright Visiting Lecturer at the University of Minnesota Law School. Through the University of Minnesota Science Communication Lab, Winikoff developed a pedagogy based on experiential learning using art, storytelling, and performance to drive public engagement in science and draw connections between global issues like climate justice and international initiatives promoting youth activism. Our collaboration focused on the use of history, art, and literature to foster empathy among young people to counterbalance the growing polarization we observe in both Hungary and the United States.
For the pilot, Kirs planned an eight week workshop for students in Miskolc, Hungary, a university town two hours northeast of Budapest. The surrounding region is home to a large Roma population (a marginalized minority in Hungary) as well as a sizable population experiencing homelessness. Most of the 17 participants were law students, many of whom had volunteered at the university's legal clinic. Some were motivated by an interest in human rights, others by a desire to volunteer with NGOs serving marginalized populations. Three members of the group were of Roma origin; the others were non-Roma Hungarians.
As the conversation evolved, we focused on three areas where new methodologies could impact student engagement and learning outcomes: (i) a focus on local history and narratives related to past authoritarian regimes, (ii) the use of performance, storytelling, and literature to foster empathy, and (iii) gameplay to explore preconceived notions related to marginalized groups.
From the beginning, we paired informal presentations designed to reinforce knowledge of human rights frameworks, past authoritarian regimes, and the transition to democracy in Hungary with activities designed to promote curiosity and play. One activity required students to create a model state with only three fundamental rights and evaluate their effect on marginalized and non-marginalized citizens. Another exercise explored a real discrimination case related to the treatment of Roma women in the local hospital. Our goal was to engage the students physically, intellectually, and emotionally in activities designed to accommodate different learning styles and personal experiences with marginalization, discrimination, and bias. This approach, which marks a departure from traditional pedagogy, especially in the Hungarian context, seeks to establish concrete connections between human rights theory and lived experience.
Our goal was to engage the students physically, intellectually, and emotionally in activities designed to accommodate different learning styles and personal experiences with marginalization, discrimination, and bias.
In practice, students used personal and local experiences to explore abstract concepts connected to human rights. Topics included a student's experience caring for her four-year old autistic child; attitudes expressed by local inhabitants when encountering international students, especially those with darker skin; and a municipality's right to display the rainbow flag during Pride month despite the anti-LGBTQI measures imposed by the central government. Students concluded that bridging the gap between abstract notions and lived reality is only possible if local circumstances and perspectives are acknowledged and respected.
A defining moment for many students was a place-based exploration of a 1946 pogrom in Miskolc. The experience began onsite with a discussion of local history in Szent Anna Square, where part of the pogrom took place. Though Hungarian students learn about the 400,000 Hungarian Jews deported to Nazi concentration camps, none of the students knew the story of Jewish citizens rounded up from nearby homes and factories and deported on trains leaving from the central Tiszai railway station, a station they use regularly. A brief lecture was followed by an audio walk, based on the work of sound artist Janet Cardiff. Students donned headphones and walked through the Szent Anna Square, listening to a well-known Hungarian author, Pál Závada, read passages from his novel describing the pogrom. The audio walk enabled students to experience history through their senses and imagination. A subsequent online discussion with the author provided the opportunity to explore the role of storytelling in historical narratives and connect the experience to human rights themes.
To assess the program's impact, we relied on pre-session application essays and post-session discussions with the participants. Several themes emerged from student feedback: i) abstract discussion focused on human rights theory provided important context but failed to trigger rich debate and personal reflection; ii) in contrast, exercises based in local history and stories of human rights violations led to heated debate and an intense exchange of ideas; iii) sharing personal and family experiences created trust and empathy that allowed the group to explore sensitive topics from multiple perspectives; and iv) careful moderation of discussions created a safe space where participants could express and reevaluate existing biases regarding marginalized groups without feeling pressure to remain silent or conform to the majority view.
The Minnesota Model calls on human rights researchers and practitioners to build community across national borders and challenge assumptions based on disciplinary knowledge.
Regrettably, the COVID-19 pandemic forced us to abandon key elements of the project, including interaction with local marginalized groups and a public storytelling event based on first person interviews with family members who lived under past authoritarian regimes. Nevertheless, participants kept in touch through different online groups and meetings. Those students will also help plan a 2021 program targeting a more diverse and (perhaps) less sympathetic audience, where we anticipate different challenges in developing content and moderating discussions.
Our model for localized, place-based responses to the erosion of democratic norms integrates experiential learning practices from the U.S. with local cultural knowledge and human rights expertise. It draws on art, history, theory, and lived experience to reach participants on a personal, intellectual, and emotional level. The Minnesota Model calls on human rights researchers and practitioners to build community across national borders and challenge assumptions based on disciplinary knowledge. For the two of us, it served as a catalyst for collaboration and experimentation and provided the opportunity to rethink ideas around pedagogy, content delivery, and learning outcomes to better equip young people to play an active role in defending democratic freedoms.
Initial findings from the Miskolc pilot suggest that university students in Hungary are open to experiential learning and that exercises rooted in literature, history, and local experience help establish trust and empathy. However, the initial cohort was carefully curated, and further testing is necessary to determine the model's value for a more diverse audience. This year, a second pilot in Pécs (Southwest Hungary) will recruit more broadly through an open call to the general public. Several students from the Miskolc group will assist with the program's preparation in collaboration with local partners in academia and civil society. The experience will offer the students insight into local issues related to human rights elsewhere in the country while providing our team with the opportunity to assess the applied learning methodologies through their eyes.
---
This article is part of a partnership with the University of Minnesota Human Rights Lab. The series explores the possibilities and barriers to building effective research and practice collaborations between academics and practitioners of human rights.
ORIGINALLY PUBLISHED: February 15, 2021