Human rights and Putin's invasion of Ukraine: an alternative proposal
Responding to Putin's aggression requires a broader human rights strategy that accounts for existing power relationships, and attempts to steer the balance in the direction of peace and justice.
---
---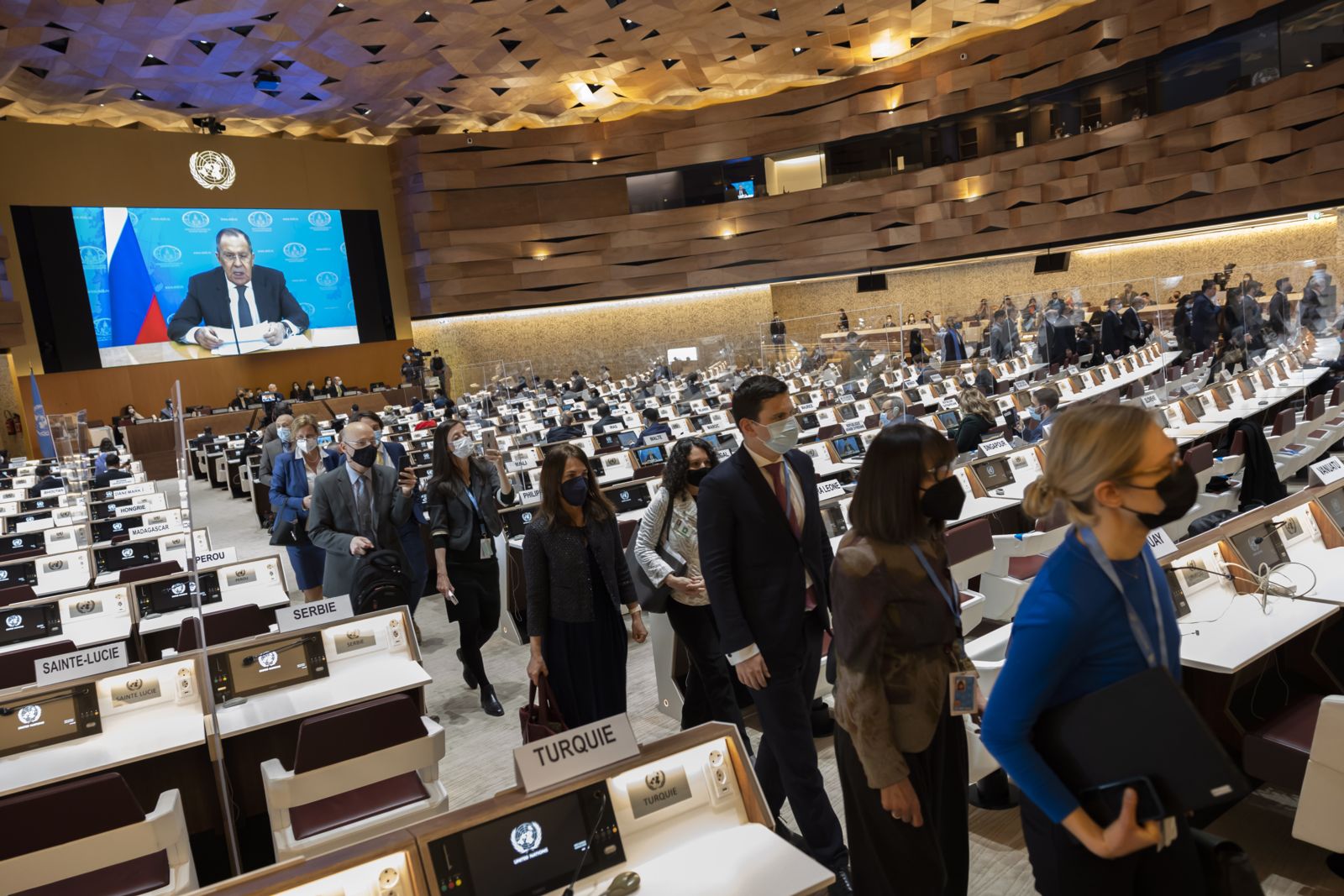 Ambassadors and diplomats walk out while Russia's foreign minister Sergei Lavrov (on screen) speaks during a pre-recorded video message at the 49th session of the UN Human Rights Council at the European headquarters of the United Nations in Geneva, Switzerland, 01 March 2022. The diplomats got up and left the room when Sergei Lavrov's pre-recorded video message began to play, in protest against Russia's invasion of Ukraine. EFE/EPA/SALVATORE DI NOLFI / POOL
---
In 1977, the Australian professor of international relations Hedley Bull theorized that order in international society is guided by three fundamental principles: a) the limitation of the use of force; b) the idea that promises must be kept; and c) the principle of national sovereignty.
The first principle would be found in Article 2(4) of the UN Charter, the second principle is Article 26 of the Vienna Convention on the Law of Treaties, and the third one is located in Article 2(1) of the UN Charter.
In Bull's words, these order-based goals do not derive "from the interests simply of the ruling group, but from the perceived interests of all states in securing the elementary conditions of social coexistence."
In 1987, Bull's disciple R.J. Vincent argued that international society was not only built on the basis of order, but also on justice.
This and other contributions sustained that legitimate state action requires not only abiding by a minimal set of procedural rules, but also complying with shared values and standards of adequate behaviour where human rights would play a key role.
In 2019, I hypothesised that the conditions under which the international human rights system emerged and developed had fundamentally changed. The world had left behind the unipolarity of post-1989, and we were living at a historical juncture of shifting tectonic plates with the relative economic and political decline of the US and Europe, authoritarian and nationalistic hubris in the Global North and South, and a multiplicity of regional powers.
It is a world of increasingly dispersed power and receding opportunities to forge global consensus. Human rights, as an idea and as a global community, would need to find its place in this new world.
International law in danger
Three years later, Putin invaded Ukraine. This is a war of aggression, a blatant violation of the most basic principles of international law. It is a textbook case of the sort of behavior Article 2 of the UN Charter was written for.
And yet, when the issue was brought to the General Assembly's attention, three quarters of Member States condemned Russia's attack but governments representing more than half of the world's population abstained. This included China, India, Pakistan and indeed much of Asia, but also South Africa and nearly half of Africa, despite the forceful anti-colonial riposte voiced by the Kenyan ambassador at the Security Council.
In 2019, I was raising the question that perhaps we were receding from a justice-based world society, if we had ever been one at all. In 2022, I wonder if order should not go out of the window as well.
This is a war of aggression, a blatant violation of the most basic principles of international law.
We must not accept such a scenario, as the most fundamental tenets of international law would be in danger. The world would be an uncertain but surely much darker place if territorial integrity became meaningless, if diplomacy was replaced by brute force, if laws were broken with no consequence.
The alternative to a rules-based international society is the Siege of Melos, where the strong do what they will, and the weak suffer what they must.
What is (and can be) the human rights response?
Human rights scholars and practitioners have welcomed the ICC Prosecutor's announcement that he would open an investigation on war crimes and crimes against humanity in Ukraine. The UN Human Rights Council agreed to set up a commission of inquiry.
Authoritative voices have called for a special tribunal for the punishment of the crime of aggression against Ukraine, echoing the decisions about Rwanda and former Yugoslavia in the 1990s, but with the obvious difference that this time it is not clear who would be setting up such a tribunal, as Russia would obviously veto any attempt to do so at the Security Council.
There are very good historical and normative reasons why human rights institutions and organizations demand that individuals are held accountable for the most serious international crimes. However, diplomats may regret the initiation of an ICC investigation when the time comes for de-escalation and conflict resolution.
Without denying the significance of international criminal law, I believe Putin's attack calls for a more nuanced consideration of deterrence and incentives for all actors involved, and by that I do not simply mean Russia and Ukraine, but the rest of Europe and the wider international community as well. Responding to Putin's aggression requires a broader human rights strategy that accounts for existing power relationships, and attempts to steer the balance in the direction of peace and justice.
Private property is one of the areas where more vision would be appreciated from within the human rights community. Russian oligarchs accumulate huge capital in London. It is estimated that, since 2016, £1.5 billion worth of property has been bought by Putin's cronies in the UK capital. The UK government reportedly considered drawing up plans to seize these assets with no compensation, making the residential properties potentially available for Ukrainians fleeing their homeland.
However, influential voices raised the alarm alleging that such measures would breach the right to private property. The international community is responding to Putin's aggression with individualized sanctions against him and his acolytes. I believe a holistic and strategic approach to human rights can help in this endeavour by redefining the right to private property to make it compatible with other rights and with the general interest in line with the social function of property.
Energy policy is another area where geopolitics and human rights can meet on this occasion. Much of Europe is still heavily dependent on Russian natural gas. In fact, while on 28 February the Council of the EU agreed to finance military support to Ukraine worth €500 million, according to the International Energy Agency (IEA), EU countries pay on a daily basis an average of $400 million to Russia.
This number is only going up. In early March, Europe paid Russia €660 million for its gas, an amount three times higher than it was two months ago.
The IEA recently launched a 10-point plan to reduce the EU's reliance on Russian natural gas. The plan includes short-term measures to shelter vulnerable electricity consumers from high prices, and measures to accelerate the deployment of new wind and solar projects.
Europe's dependence on Russia's energy will not change drastically overnight, but the current crisis is also a wake-up call for greater energy autonomy, and renewal sources play a key role there. Climate change is an existential crisis for humanity. A window may be opening to articulate the need to fight global warming in the name of ecology and human rights, but also in the name of national interest.
The current geopolitical crisis is also a plea to re-examine international trade and development. While Russia's attack has provoked an unusually united response in Europe, 25 African countries either abstained or did not vote in the Uniting for Peace resolution— Eritrea outright voted against it.
There is more than one reason to explain those positions, but it seems to be the case that, despite historical reminiscence of colonialism and imperialism, many African governments put short-term economic and security interests first.
Over the years, Russia and China have elbowed their way onto the continent taking advantage of Europe's relative economic decline, lack of interest, and conflicting political priorities. The fragmented African vote at the General Assembly is symptomatic of a longer-term trend.
When Russia now, and China potentially tomorrow regarding Taiwan, cast doubt on basic rules of international order, Africa's concern should not be taken for granted. A political opportunity may be arising to reconsider the role of human rights in fostering fairer trade relations, migration policies, and oversight of Western corporate interests in Africa.
Human rights will not replace realpolitik in international affairs. But claiming the moral high ground and uttering warm platitudes about rules-based international order is not sufficient. Human rights advocates can do more to speak the language of economy, security, and energy. Preserving peace, protecting people and facing up to bullies successfully may depend on it.
ORIGINALLY PUBLISHED: March 11, 2022
---
Koldo Casla is a lecturer at the School of Law and the director of the Human Rights Centre Clinic, University of Essex. His Twitter is @koldo_casla.
---