A call to the human rights movement for going broader and refining the interdisciplinary tools to push for dignity
Increasing the breadth of actors involved in the common platform of fundamental rights ideals would strengthen the human rights movement's ability to hold its ground and open new paths.
---
---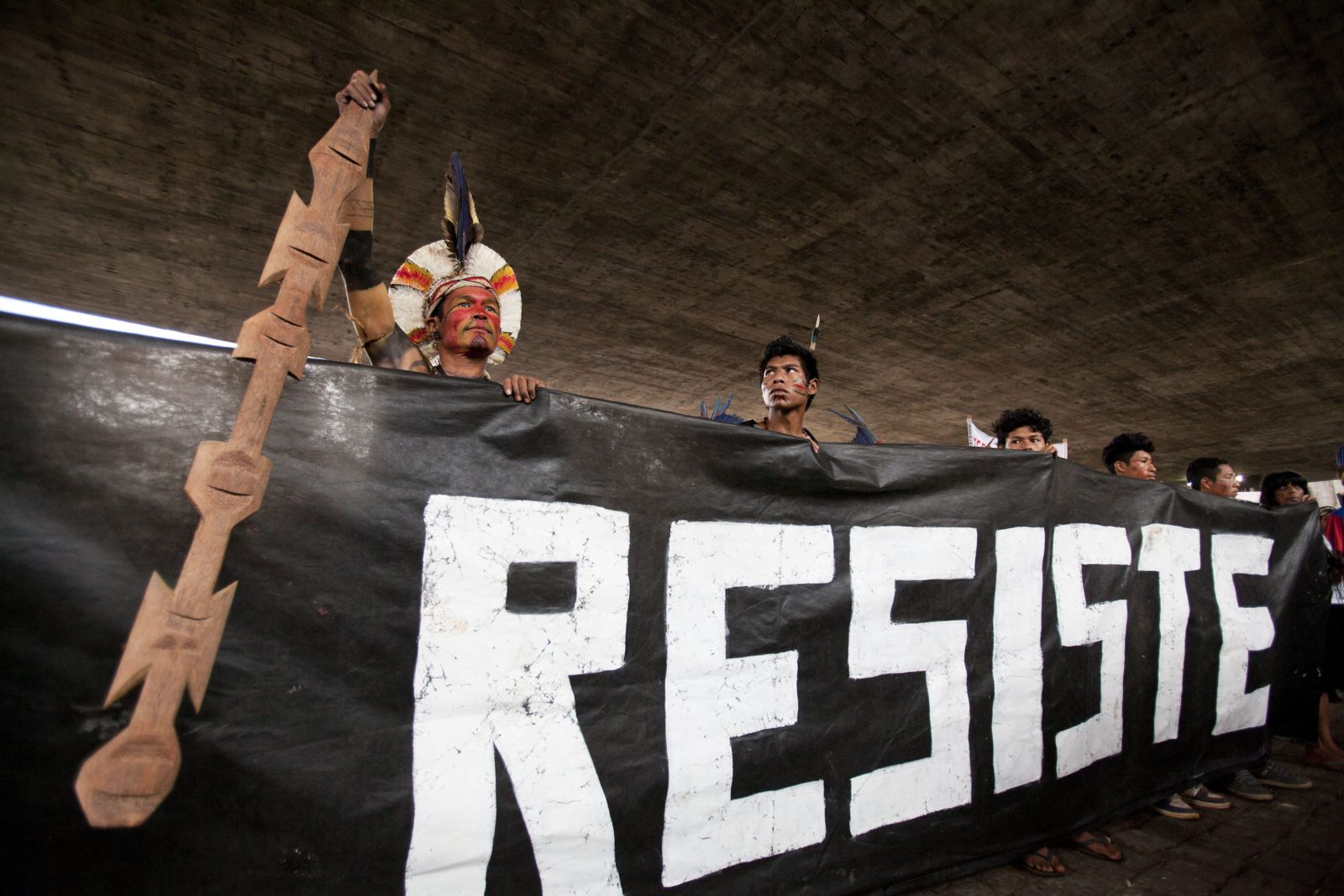 Indigenous people in Sao Paulo, Brazil participate in the "Indigenous National Mobilization," with protests convened in Brasilia and other cities in the country in October 2013. EFE/Sebastião Moreira
---
With human rights at a crossroads, where should the movement be headed?
I hope to contribute to the debate by reflecting on some of the experiences and strategies of the human rights, women's rights, and land rights movements in Latin America. In looking to where the movement should be headed, I highlight three issues relevant for developing effective strategies to advance rights, keeping in mind the regional and global challenges we are facing.
First, the human rights movement should deepen its analysis of how the key challenges of our times are interconnected. It is a call to understand the actors, the processes, and the dynamics of change. We, human rights practitioners and advocates, face complex and interlocking challenges, including responding to the climate emergency, reducing inequality, maintaining the rule of law, preserving democracy and peace, ending poverty, and preventing forced migration, among others. Understanding the links between these challenges and fights is critical to solve them as well as to recognize the root causes and consequences of inaction, in order to identify new allies and tactics, and to help build joint efforts. This broader analysis is also useful to acknowledge the limitations of some of the actions taken in isolation.
An example from the field that shows some of these links is the strategy to prevent Amazon deforestation. This critical goal is linked to the guarantee of indigenous peoples' rights, but is also linked to failings in the rule of law; lack of regulatory enforcement of land clearings and property rights; desertification and changes in rain patterns; high numbers of killings of land leaders; modern forms of slave labor; displacement, famine, and migration. Thus, it would be nearly impossible to tackle deforestation without ensuring the protection of land defenders and indigenous peoples; or to protect land defenders through targeted measures such as police protection without taking into consideration the role of rights enforcement. Similarly, rising numbers of Central American refugees from Honduras illustrate the impact of climate change and rule of law/justice policies in migration flows.
Increasing the breadth of actors involved in the common platform of fundamental rights ideals would strengthen the human rights movement's ability to hold its ground and open new paths.
Second, the movement should accelerate the changing of the locus of support and targets for advocacy. The human rights movement (not in literature but in practice) has relied on and encompassed a broad set of civil society actors. It has also tried to influence social narratives and values, and targeted power brokers beyond governments including businesses, unions, churches, social movements, political parties, national and international institutions.
Increasing the breadth of actors involved in the common platform of fundamental rights ideals would strengthen the human rights movement's ability to hold its ground and open new paths. Multiple actors could do much more to build values consistent with human rights and design civil society initiatives focused on key sectors. For example, bridging some of the empathy and policy gaps that are key to fighting against entrenched racism, sexism, or addressing the climate emergency; in this spirit, the "#NiUnaMenos" (not one less) movement brought to the streets the call for decisive policy action in facing femicides in Latin America.
But as a movement we also have to pivot our areas of targeted action in line with a better understanding of some of the processes of positive and negative change. Thus, without neglecting national governments and societal support and engagement, we need to address the role of businesses, of transnational processes, of cities, the scientific community, even of churches as key actors of change. These actors can be allies and targets in the development of our strategies for good. Going back to the intersection of climate change and human rights, it is difficult to make a dent on issues of health, air quality, and pollution without a focus on the policies of cities in the Americas. Moreover, the work of scientists as expressed in the Intergovernmental Panel on Climate Change, or the scholarship of Carlos Nobre on the Amazon, have been critical in raising awareness of the climate emergency, triggering public debates and policy changes. And several organized churches have made a commitment to respond to climate change adding allies to the search for a global response to this challenge.
Third, the human rights movement should deepen its determination to explore and deploy multifaceted approaches to ensure dignity, equality, community, and choice. In order to move in this direction, it should hone its interdisciplinary toolkit to analyze social and historical processes of change, as well as for developing strategies and actions. This should be done in an effort to understand the limits and potential of a variety of tools to approach a specific situation.
The human rights movement needs to refocus its lens to become more effective in its strategies for social change
Linked to this third call, the movement should continue to deepen its understanding of rights and social change. Hence, it can analyze how rights evolve and are reshaped by communities that reimagine their limits; how bias is overcome; how part of the agenda necessarily needs to question the role of some laws and institutions in perpetuating inequality. For example, understanding the development of the right of women to be free from violence requires rethinking the limits of citizenship and law, of who counts, which women count, what spaces and voices are relevant for the law. Working to eliminate gender-based violence requires understanding implicit and explicit biases; the limits of laws and institutions in changing cultural, political, and economic patterns; and the impact of international human rights judgments in reallocating power and resources. Diverse disciplines, including sociology, anthropology, political science, history, international relations, behavioral science, and social and organizational psychology can aid our understanding and add to the traditional legal and advocacy tools for change. And by understanding these dynamics in more depth and range, there might be art interventions, narratives of change, economic studies, even legal and institutional developments that contribute to the emancipatory solutions necessary for equality. For example, in developing the theory of reparations at the Inter-American Court on Human Rights, human rights organizations asked for public acts of recognition of responsibility and spaces of memory in an unprecedented step for similar tribunals at the time. This ask, in dialogue with key concepts of social psychology, history, and political science in understanding that changing public discourse, recognizing past wrongs, was critical for the victims and also for society as a whole.
In sum, the human rights movement needs to refocus its lens to become more effective in its strategies for social change. In moving to understand the interconnectedness of some of the challenges, the need to address a broader set of actual and potential allies, and hone its interdisciplinary tools, the movement would be better positioned to effect change. These steps forward would enlarge the base of actors engaged positively with the fight for dignity, justice, and equality, and would make for smarter and more varied paths to achieve and sustain the changes that we aim for.
---
This article is part of a series developed in partnership with the Miller Institute for Global Challenges and the Law at the University of California, Berkeley, School of Law. The series draws on contributions from scholars and practitioners who participated in the Institute's November 2020 Conference entitled "Human Rights at a Crossroads? A Time for Critical Reflection on the Human Rights Project."
ORIGINALLY PUBLISHED: July 26, 2021
---
Viviana Krsticevic is a lawyer, human rights activist, executive director of the Center for Justice and International Law and a co-founder of the Gqual Campaign. Her Twitter is @mundopenelope.
---