Did they crack the code? The importance of encryption for protest movements
The COVID-19 pandemic has made the shutdowns of online civic space ever more consequential for exercising civil and political rights, and the Belarus protests are showing the importance of encrypted communications.
---
---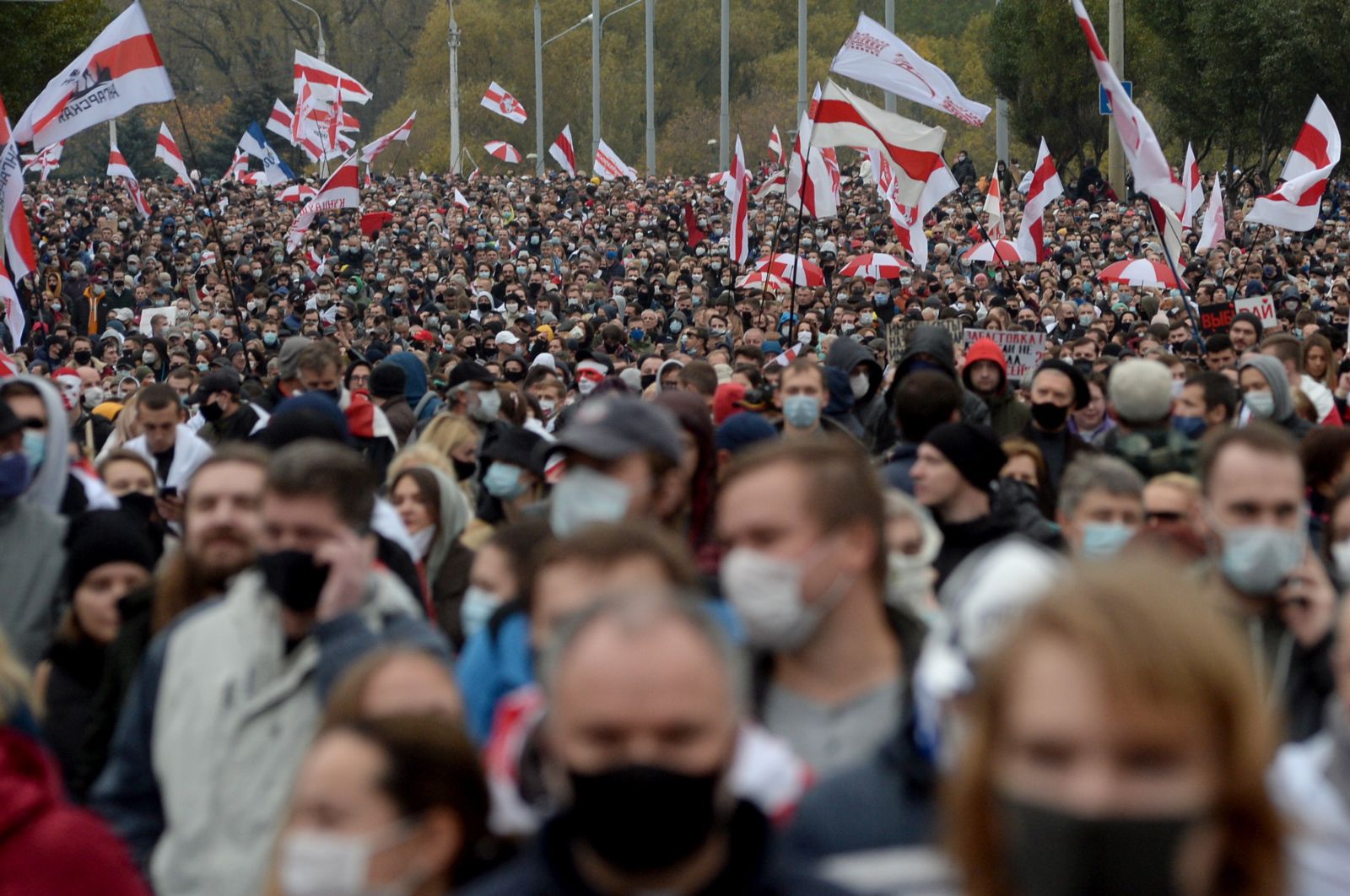 Protesters march during a rally against government and President Lukashenko in Minsk, Belarus, 25 October 2020. According to reports, over 100,000 opposition activists took to the streets against Belarusian government and President Alexander Lukashenko calling him to step down and demanding new presidential elections. EFE/EPA/STR
---
In the presidential elections held in August in Belarus, Alexander Lukashenko was re-elected with 80% of the votes, yet only a few believed the official account. This disparity between reality and the state claims instigated record numbers of people to pour into streets and demand repeated elections. The regime answered with a brutal crackdown on protesters and internet shutdowns to limit accessing and sharing information. But Belarusians found a way to communicate through an encrypted messaging service called Telegram, which played a vital role in organizing protesters and disseminating information horizontally without any formalized leadership. Encryption remains a central tool for bypassing state surveillance, especially in countries with repressive governments, but it does not come without lingering safety and security concerns.
When Belarusians called for transparent elections, they were met with extreme police violence and detentions, photos of which filled the media and caused international outrage. A parallel battle was happening in the digital realm through the blocking of independent media and opposition websites and intermittent internet blackouts. These restrictions aimed to cause a "chilling effect" on popular mobilisation and prevent the publishing of information and evidence about police abuse. Lukashenko blamed "foreign interference" for the internet shutdowns but experts pointed to the government that controls the state-owned Internet provider Beltelecom. NetBlocks reported that internet access in Belarus has been disrupted for several days, creating an information vacuum preventing citizens from establishing contact with each other and with the outside world. On the night of the election's results, the government shut down social networks, blocked VPNs, while encrypted traffic was also blocked on certain websites and two election platforms so that people could not observe news about possible violations. Later that day, the whole mobile internet was shut down and most of the media outlets were unavailable. None of the usual messaging services worked without additional tools to bypass the censorship. Viber, WhatsApp, and Messenger were inaccessible.
Belarusian authorities used a DPI method for blocking internet access, but also monitored real-time communications, examined unencrypted content, and implemented targeted blockings and shutdowns, enabling both invasive privacy breaches and mass censorship. Similar technology has been documented in other countries, notably China and Russia, where it has been reviewed as a tool for implementing the Sovereign Internet Law. It seems like government manipulation of the internet will remain a constant feature in the future.
Multiple crackdowns have brought to the spotlight the rights to freedom of peaceful assembly and of association in the digital space. According to a UN special rapporteur "threats to digital expression and internet freedom are more pronounced than ever […] and internet shutdowns have emerged as a popular means of information control." This issue has been lately growing in importance as the restrictions amid the COVID-19 pandemic have made the shutdowns of online civic space ever more consequential for exercising civil and political rights. The Belarusian case of coping with state interference through encrypted messaging service can be instrumental for understanding similar scenarios across the globe.
In the post-Soviet country with a booming IT sector adding 6.4% GDP, harnessing the potential of the tech platforms has been central to the opposition's success. YouTube popularized Siarhei Tsikhanouski and subsequently his wife, who ran as the lead candidate against Lukashenko. Again, when social media platforms became mostly unavailable, protesters turned to Telegram. The anti-censorship tools used by Telegram through robust encryption allowed Belarusian citizens to continue connecting via the app and access its channels to share messages, warn protesters of police movements, and guide demonstrators to certain neighborhoods.
It seems like government manipulation of the internet will remain a constant feature in the future.
The diffuse coordination made it more difficult for the security services to repress the protesters. As a journalist summed up: "This is the Telegram revolution. It's not the opposition, not the political parties. Everything is made by bloggers, influencers, and these Telegram channels." Lukashenko himself acknowledged Telegram's importance when announcing that "all the various Telegram channels that control crowds in Minsk will go away." The protests show how critical encryption is to protect citizens' human rights and safety. It also offers a model to be copied by activists in many other countries looking to evade government control. Similar channels have been used by popular movements in Catalonia and Hong Kong, proving that even though the context might be different, similar tactics can still be adopted.
Evidently, there are two sides to the liberating power of encryption. A key argument is that as much as it can be a tool for greater democracy, it can also foster illegal activities. Thinking of the democratic cause only, where the biggest Telegram channels are followed by millions of users, questions arise around self-organization, misinformation risks, and security threats to users. In a climate where traditional media cannot be trusted and oppositional media has been disabled, the platforms take on an unprecedented power over information. The biggest channel fuelling Belarusian protests is Nexta, with more than 2 million subscribers in a country of about 9.4 million people. Operating fast and without an editorial team, they do not have the time and the capacity to fact-check information. Misinformation can lead to higher risk-taking, such as when protesters wrongly heard that security forces joined them and approached the police chanting "five cities have laid down their shields". They were later dragged into police vans and may have been among the thousands of detained Belarusians who faced torture and beatings.
As the governments become increasingly repressive and tech-savvy in suppressing dissent, the popularity of encrypted platforms for news gathering and dissemination is here to stay.
Roman Protasevich, the chief editor of Nexta, offered a rare glimpse into the channel's operational mindset when interviewed by the BBC: "Do I feel responsible for what we publish? Only in terms of whether it will bring people closer to victory and the end of the dictatorship". Undoubtedly, a small team of six that works out of a community centre in Warsaw is short of resources to cross-check each piece of information when there are hundreds of items on the Telegram channel. But these and similar channels remain oblivious to alerting their followers that the information they publish has not been verified.
As the governments become increasingly repressive and tech-savvy in suppressing dissent, the popularity of encrypted platforms for news gathering and dissemination is here to stay. Encrypted communications fall beyond the reach of regulation, making them a strong alternative source. They will remain a key enabler of civic rights in undemocratic societies where the media is tightly controlled by the authorities. But with information power concentrated into the hands of a few, an additional layer of scrutiny should be placed on how they operate and whether or not they act responsibly towards citizens.
Nexta founder Stsyapan Putsila downplays their role saying that they do not force anyone to protest: "We tell people that they can go out, defend their rights. Belarusians come out on their own". But he also added that "Now we not only inform, but to some extent also coordinate people". For Nexta, the trade-off is worth the end goal of achieving democracy, and many of their followers would agree. But in the country hungry for uncensored information, this reluctance to take on a greater responsibility despite growing stakes creates additional risks for the protesters.
ORIGINALLY PUBLISHED: November 20, 2020
---
Pavlina Pavlova is a consultant at the Organisation for Security and Co-operation in Europe (OSCE), where she works on capacity building programs for human rights defenders. Her research concentration is on the human rights dimension of cybersecurity and questions related to the importance of individual rights for collective security.
---