While analyzing our last four years of local resource mobilization, I was admittedly surprised at the results. From 2011 to 2014, the economic growth rate of Mongolia dropped by 10%, but the funding my organization, the Mongolian Women's Fund (MONES), received from corporate donors increased sevenfold. Despite the economy's rapid decline, our resource mobilization from the private sector has dramatically increased.
In early 2012, the World Bank called Mongolia the "fastest growing economy in Asia" due to its whopping growth rate of 17.3%. In fact, World Bank data on annual GDP growth in 2011 shows that Mongolia was the second fastest growing economy in the world, just after Macao. During these years, the country welcomed a huge foreign investment in its mining sector. Money flooded the country and Mongolian businesses, big and small, thrived with many opportunities.
Corporations opened their doors to solicitations from the disadvantaged, extending their giving through corporate social responsibility initiatives. While there is no data to show where these donations are going or for whom, since 2011 the tide has been slowly shifting. Many kindergartens and schools in urban slums and remote rural areas, hospitals and orphanages now receive assistance. In 2013, for example, Mongolian Consulting Services, a national company that operates in several sectors, donated a full set of emergency medical equipment to a children's hospital in the Bayanzurkh district of Ulaanbaatar. In another example, a construction company, Jiguur Grand, paid for expensive surgery for an impoverished 12-year old boy to recover his vision in a South Korean hospital. A handful of corporations donated to NGOs for rights-based initiatives, but these were exceptions.
Mongolia is learning that social causes are not only the responsibility of the state and international aid agencies.
Mongolia, like many former socialist countries, is learning that social causes are not only the responsibility of the state and international aid agencies. Children living on the streets, sex and labor trafficking, women and children murdered in domestic violence, and decaying libraries and museums are only few of the social issues that require immediate attention. For us, it has been easier to deliver that message to individuals, especially people who work for living and do not always have extra money to share. In our country, shaken by development problems, ordinary citizens face many injustices and losses and, perhaps, more easily connect to other's pain.
When the Mongolian Women's Fund was established in 2001, corporations declined our requests with polite and not-so-polite excuses for many years. Individuals had been our focus from the beginning, and due to the minimal engagement from corporations, individuals became our primary donors—in fact, over 70% of our local resources came from them. This trend continues to persist: in 2013, 77.3% of our locally raised resources came from 205 individuals, and in 2014, 63.7% of our locally raised funds came from 543 individuals.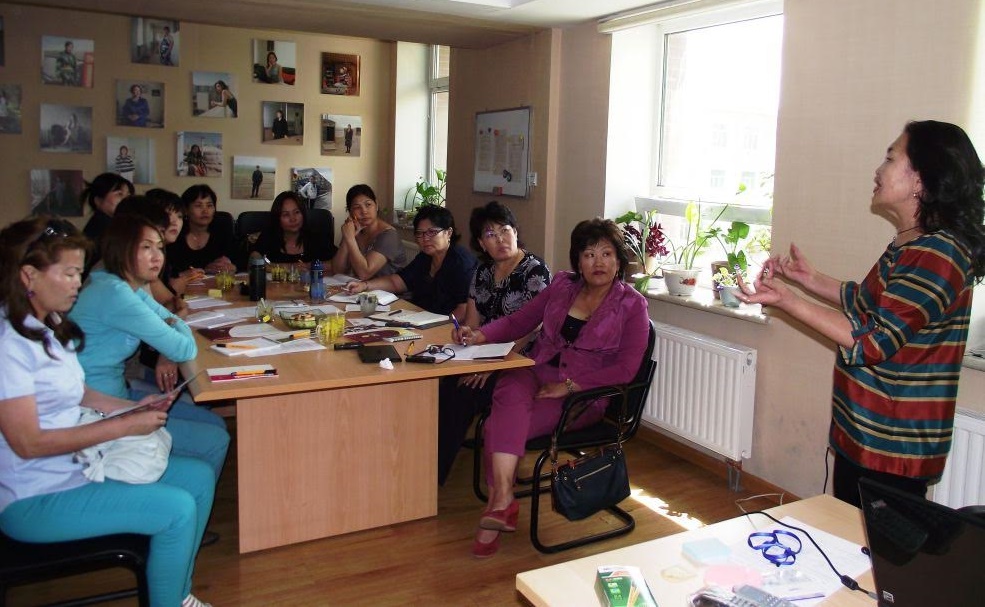 Photo by Mongolian Women's Fund (MONES) (All rights reserved)
MONES is still learning how to successfully build long-term relationships with corporations, but, so far, it has learnt how to speak their language and create work that is mutually beneficial.
---
While corporate social responsibility was becoming a buzz-word and corporations were competing with their good deeds, many of our solicitations on behalf of women and girls—whose rights were regularly violated and voices silenced—remained unanswered.
But in 2011, we began to see new opportunities with the corporate social responsibility buzz. At first we used the same communications strategies with corporations as we had with individual donors, with very little success. I still remember the blank eyes of a wealthy business owner during our passionate solicitation meeting—his expression didn't change once.
Luckily, we had a network of international Women's Funds to learn from. From Hong Kong to Brazil to South Korea—all countries with strong economies and powerful corporations—Women's Funds shared their lessons and tips on how to approach corporations, teaching us what works and what doesn't. We had invested in building our capacity of working with corporations and we mobilized all our internal and external resources to reach out to corporations and build conversations of interest to both sides. We built a new, corporate networking strategy, developed new approaches in introducing our work to individuals in the corporate world, and utilized our resources to offer equal partnership. We are still learning how to successfully build long-term relationships with corporations, but, so far, we have learnt how to speak their language and how to create work that is mutually beneficial.
In 2014, due to political instability and poor economic decisions, Mongolia plunged into its worst economic crisis in the past 25 years. Many companies shut their doors, and thousands of people were laid off. As one example, in 2012, seven national airlines operated domestic and international flights, but by 2014, five had declared bankruptcy. In 2013, one single mining company cut 2,000 jobs, a sample of the broader picture of the growing unemployment rate that jumped from 6.8% in 2012 to 9.4% in 2014.
With this economic devastation, most corporate social responsibility funding dissolved. Yet, despite this grim picture, MONES' resource mobilization from corporations in 2014 was seven times higher than during the year of economic boom in 2011. In 2011, MONES received donations from six companies, but in 2014, we received donations from 24 companies. And, the average amount of donations increased sixfold. Clearly, our investment in building the capacity to work with corporations has been paying off. Because of the relationships we worked so hard to build, MONES was able to recruit corporations and receive donations despite the overall decline in CSR.
Corporate donors are different from individual donors. They have a different mindset and their decisions are, mostly, based on the calculation of gains and losses. Thus, we changed our language without changing the meaning. We talked less about building a just society where women have equal rights and live free of violence. We talked more about how empowered women are able to make decisions, including financial, at household and community levels. We emphasized how investing in women is a smart investment decision, because violence-free communities are more productive.
We are learning that unless we understand the corporate mentality and learn their language, we will keep seeing their blank faces. The economic crisis will end, sooner or later, and the key for future success in our local resource mobilization is to keep building our capacity of working with corporations. Corporate social responsibility is becoming a part of our culture, and despite the crisis, corporations still respond to smart solicitations. Our fundraising results for 2014 demonstrate that. Because of our carefully laid groundwork, when the economy improves our ability to raise even more corporate funds for women and girls' rights will only continue to increase.

New research about the local resource mobilization efforts of women's funds in the global South and East, including MONES' work, is now available online here.