Being flexible while staying true: the balance of engaging corporations in human rights
Getting traction and funding for women's rights in India can be difficult, but partnering with innovative corporations is one way to push the boundaries of change.
---
---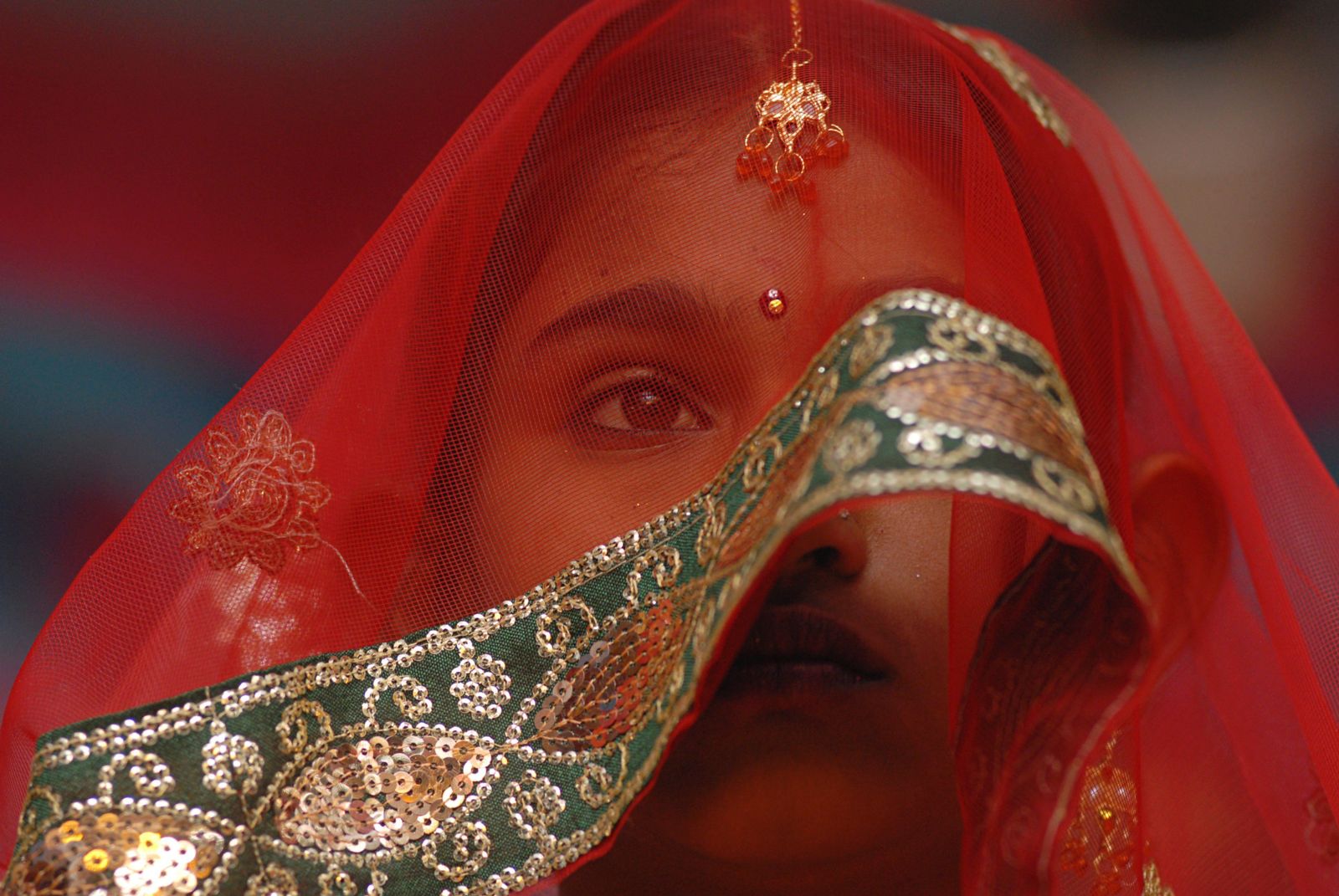 EPA/DIVYAKANT SOLANKI
An Indian bride dressed in traditional marriage attire takes part in a mass marriage ceremony in 2012.
---
In India, getting traction and funding for women's rights can be difficult, especially on issues like child marriage that urban residents often perceive as "rural" problems, far removed from their world. Even though a recent UNICEF study shows a significant decline in child marriages in India, most of these urbanites are not aware that 47% of women aged 20-24 in India were married before age 18, indicating that it is still a remarkably prevalent issue. According to the Union Health Ministry's Family Welfare Statistics 2011, for every woman aged below 18 getting married in urban centres, three women are doing so in rural areas. But this practice is also prevalent in urban and peri-urban areas of India. It is a problem deeply entrenched in tradition, with girls being perceived as a burden, and many families unwilling to invest in their daughters' future and education, which is compounded by lack of infrastructure to keep girls in schools.
At Breakthrough, we have focused on fighting gender-based violence as the bedrock of all our programs, and we knew from early on that shifting norms around abusive practices like child marriage was paramount. An integral part of our methodology is that we believe that everybody has to be part of the solution and that it's about all of us. We have to solve problems by creating a very vibrant and engaged dialogue. However, our research suggested that urban men and women did not feel that their actions to prevent early marriage had any effect outside their zone of influence. Before our most recent "Selfie4Schools" initiative came about, we had to find the right partner and the right message.
When we first entered into a partnership with the Vodafone Foundation, we had trouble landing on a mutually agreeable campaign. As a large tech company, Vodafone naturally wanted to do something technology-focused and we needed to find a message that worked with technology to spread the message on women and girls' rights. We were adamant that we would not move away from our mission to prevent gender-based violence, but we did not know how to discuss this within the tech environment. It took almost a year to figure this out, making the initial planning phase one of our biggest challenges.
Indeed, as funding models for human rights begin to shift, working with corporations can be an effective option. However, framing the issues in ways that resonate with the companies—while not compromising human rights values and goals—is one of the biggest hurdles. Finally, after much debate and several rejected proposals, we landed on education as something we could work on together. While child marriage may not be on the radar of high tech sectors or Indian urbanites, education definitely was, and so we framed our message in terms of keeping girls in school to delay early marriage. Vodafone liked this idea and agreed to pay for the education of 25,000 girls for a year (i.e., they would fund the NGO that paid for the girls' schooling). The next step was how to make this campaign happen.
"Framing the issues in ways that resonate with the companies—while not compromising human rights values and goals—is one of the biggest hurdles".
Once we settled on the main theme, we worked with Vodafone to come up with the "Selfies4Schools" campaign in which people would take a selfie with their mobile phone or at one of the Breakthrough road shows in multiple cities. With an ask of uploading a selfie on the campaign page, Breakthrough aimed to involve the younger generation of urban India and also hoped to foster dialogue with them regarding the issue of early marriage and schooling of adolescent girls. When more people feel directly connected to the cause of preventing early marriage of girls, there is a higher probability that they will use their power to influence peer group conversations.
Breakthrough used digital media, radio and print to spread the word about the campaign and to encourage people to submit their selfies and invite their friends to do the same. The campaign was a huge success and was able to reach more than 19 million people over the course of five weeks. The originally targeted 2,500 selfies were achieved in just the first 10 days, and the final count of selfies exceeded 7,000. At the end of the campaign, we had raised USD$453,125—more than double our original goal—and Vodafone Foundation well exceeded their commitment of sending 25,000 girls to school and instead agreed to pay for 58,000 girls. Not only did the campaign raise awareness on the issue of child marriage, helping these 58,000 girls stay in school for an additional year also delayed their marriages.
But our work is far from over. After this campaign, Vodafone shifted their focus toward skills-based programs—and this is always the challenge when working with corporations. New people come in, old champions for the cause might leave, and organizations have to constantly reframe their issues for funders, without losing the core of the mission. In India, corporations do not want to talk about violence, especially domestic violence, so this is a constant hurdle for us. Also, corporations prefer supporting work that has a service delivery angle, since results are tangible and easy to demonstrate. Norm change, on the other hand, is not only difficult to measure and quantify, but it also takes much longer to take effect. We have to find creative ways to engage with corporations that speak to what they are looking for while also staying true to what we want to achieve. For example, Google has helped us to create a digital toolkit for activism, and Facebook and Twitter have both assisted us in doing events in online spaces.

Image of the "Selfie4Schools" initiative.
---
Norm change can happen only when we engage with a diverse population, and corporations can be a great support with their resources—human, funding and material. If these relationships are nurtured, the right corporations can become long term supporters and champions for our cause. Being flexible and creative—while also standing firm in our principles—is the balance we are always trying to achieve when working with corporate donors.
ORIGINALLY PUBLISHED: May 3, 2018
---
Rajshri Sen is the director of resource mobilization and leads the corporate and institutional fundraising at Breakthrough.
---