Between progress and backlash: protecting sexual rights and reproductive rights
What value do human rights have for advancing protections related to sexuality in the current moment?
---
---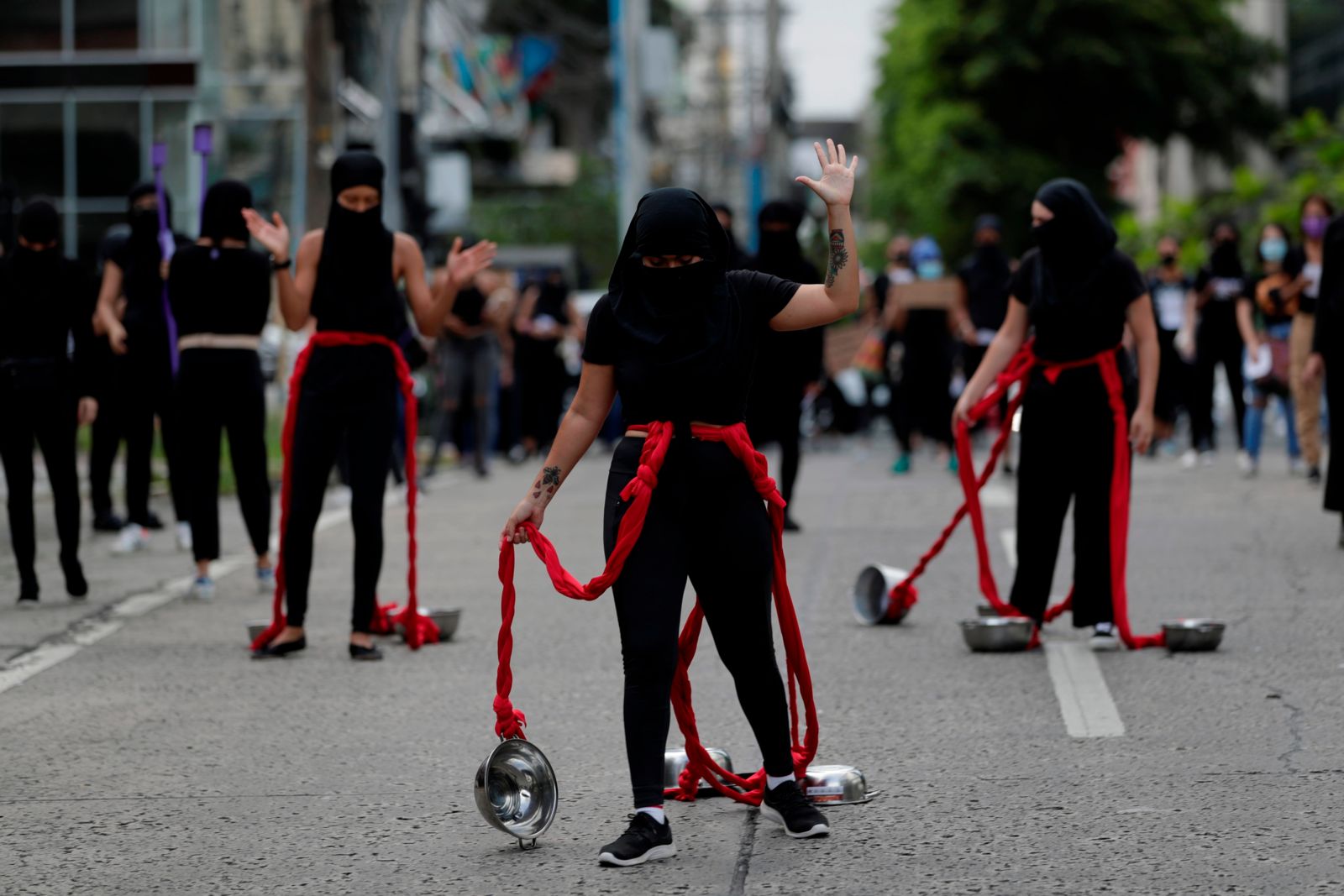 "Several women make a symbolic presentation during a protest on a main avenue in Panama City. The "Empty Pots of Panama" is a feminist movement critical of the Panamanian state's negligence towards gender, sexuality, and reproductive rights in their COVID-related measures." EFE / Bienvenido Velasco
---
The last few years have seen unprecedented progress towards sexual and reproductive rights around the globe, at both societal and legal levels. The change from complete social stigma and invisibility to increasing public visibility and rights protections over the course of a few decades in countries across the globe has been nothing short of amazing. One need consider only the record number of countries that have decriminalized homosexuality; the growing recognition of sexual assault as a serious crime regardless of where it takes place and against whom; the decriminalization of heterosexual sex outside of marriage for persons over 18; the loosening of restrictions limiting access to contraception and abortion services; as well as the recent change to the International Classification of Diseases moving transgender health out of the chapter on mental and behavioural disorders into a new chapter on sexual health.
At the same time, the huge and growing backlash sometimes feels like a tidal wave. This includes government sanctioned, or tolerated, violence because of people's real or perceived sexual orientation or gender identity, openly expressed articulations of homophobia and transphobia by government officials, as well as retrenchment on commitments to comprehensive sexuality education, access to abortion and other reproductive rights across every continent. Alongside these actions by governments, sit broader ideological attacks against gender equality and sexuality, increased conservatism, a lack of trust or support for multilateralism, and a growth in fascist tendencies and populist anger more generally. 
It is this disconnect, and opportunities for synergy, that motivates this series. What is the value of human rights for advancing protections related to sexuality in the current moment? As the pieces will show, the law is critical but the organizing and rallying cry of human rights, beyond the rule of law, goes much further with the potential to bring different social movements together. As highlighted by these authors, human rights—built through theorization and practice globally—function in two ways: as a law-based practice and as an act of radical political imagination.
Sexuality, and a person's ability to manifest their sexuality consensually, is by now generally understood to be a matter of human rights, but it is nonetheless enmeshed in a wide variety of cultural norms, attitudes and values, as well as hostage to economic, social, legal and, in particular, political realities. This collection makes clear the need to think more deeply about the full social architecture that can support reproductive and sexual rights, and the need to fully engage with the economic, social, cultural, and political contexts that lie beneath the abstract expression of rights.
What is the value of human rights for advancing protections related to sexuality in the current moment?
The last few months in particular have exposed these realities in new ways. Even in this time of COVID, it seems sexual and reproductive rights remain the target of backlash from right wing movements and governments, even as they continue also to be at the forefront of expanding understanding and human rights protections across the globe. As authors in this series remind us, COVID-19 has challenged not only health but rights worldwide, including sexual and reproductive rights, and we must recognize and address the fact that despite recent advances, these rights in particular are vulnerable to regression.
Consider Hungary' use of COVID-19 to justify passage of a law making it impossible for anyone who doesn't identify with the sex they were assigned at birth to change their legal gender marker to correspond to their identity. Or the United States, where the nation's largest provider of abortion services and Christian anti-abortion lobbying organizations both received millions in Coronavirus stimulus money—loans are forgiven for Christian advocacy groups, but must be paid back by those providing reproductive health care.
Particularly illustrative of these tensions is the recent change in Gabon, where in early July the Gabon Senate decriminalized same-sex sexual relations, joining the growing list of countries to remove criminal laws that target and discriminate against lesbians and gay men. But to be clear, paragraph 5 of Article 402, the article which criminalized same-sex sexual relations—with a maximum penalty of six months in prison and a five million central African CFA franc fine—was only inserted into the new Gabonese Penal Code in July 2019. There is no long history here, providing a particularly clear example of the interplay between law, politics and other factors that result in the arbitrary and often cavalier granting and withdrawing of rights protections related to sexuality, with very real impacts on people's lives.
All of this supports the idea that sexual and reproductive rights are an important lens for thinking about how human rights more generally evolve within and beyond institutional spaces (i.e., in linking the civil and political to the economic, social and cultural), as well as the ways in which the interactions between lived realities and the legal, technical, and political spheres allow human rights norms and standards to develop and change. This may be because sexual and reproductive rights denote very different things to different actors in different contexts, showing how the nature of the concern with specific topics (ranging from abortion to sex work) continues to influence the extent to which even the same actor will engage in expansive or restrictive approaches.
What brings these pieces together is that all show how rights frameworks can help expose, assess and challenge systematically the inequalities connected to sex, to sexuality, to reproduction, and ultimately to health and well-being for all people.
Resistance in many cases stems from claims to radically different understandings (and fears) of what "sexual rights" or "reproductive rights" include and, therefore, how recognition might bind states and other actors. It is perhaps for this reason, more than any other, that resistance to sexual and reproductive rights comes not only from the "usual suspects" but even from some traditional human rights scholars. What is apparent in current debates is the way in which even those with an ostensibly expansive view in one domain may not have that same expansive perspective when it comes to other issues.
In a particularly telling example, illustrated in one piece in this series, Argentina is at the forefront of putting into law gender-transition related healthcare for trans people as well as options for legal gender and name changes, but induced abortion remains a criminal offense. All of this limits meaningful interaction between work to support different aspects of sexual rights, reproductive rights, and human rights more broadly, and stokes the lack of trust or engagement that still exists among different areas of movement politics; including between women's rights, transgender rights, disability rights, lesbian and gay rights, and reproductive health and rights movements.
Inspired by this collection and the work of these authors, I close by noting human rights standards provide a touch stone, but their mere articulation, while essential is far from sufficient. Stronger, active and organized resistance to state sponsored regression is fundamental, and specifically with respect to gender, race, and equality across all identities. What brings these pieces together is that all show how rights frameworks can help expose, assess and challenge systematically the inequalities connected to sex, to sexuality, to reproduction, and ultimately to health and well-being for all people. Leading then to the ultimate question: in what ways can these different approaches to reproductive and sexual rights push human rights bodies, scholars, and activists not only to better understand but to address the limits of current discourse and protections for all people?
ORIGINALLY PUBLISHED: September 8, 2020
---
Sofia Gruskin directs the USC Institute on Inequalities in Global Health. She is a professor in the Keck School of Medicine and Gould School of Law at the University of Southern California. She tweets @SofiaGruskin.
---