Societal attitudes on the rights of LGBTIQ persons are progressing in countries around the world. From marriage equality in the US to the recognition of a third gender in Nepalese passports, we have witnessed many steps towards more liberal and inclusive societies. At the international level, the UN Human Rights Council recently appointed an Independent Expert on protection against violence and discrimination based on sexual orientation and gender identity (SOGI Expert). Vitit Muntarbhorn, an international human rights expert and professor at Chulalongkorn University in Bangkok, is going to monitor and promote the realization of human rights of LGBTIQ individuals.
However, any progress seems to be accompanied by backlash. A group of states in the UN General Assembly contested the legitimacy of the SOGI mandate and sought to postpone it indefinitely. The vote in the GA's Third Committee on November 21 upheld the mandate, but it took enormous civil society mobilization to achieve this, and the vote was extremely close (84 to 77 with 17 abstentions). This conflict reveals the extent of the controversy and divide among states—the battles on LGBTIQ rights are far from won.
Bathroom politics reflect and are often linked to broader questions.
Among the many experiences of discrimination against LGBTIQ individuals, one relates to an everyday need as basic as sanitation. While access to sanitation might seem minor when compared to questions of legal recognition and violence against LGBTIQ individuals, bathroom politics reflect and are often linked to broader questions.
Toilets remain one of the spheres where gender roles, gender binarism and sex segregation remain widely unchallenged, and users are presented with the option of male or female? Ladies or gents? Urinal or stall? But not everyone has this choice.
In March 2016, the State of North Carolina adopted a law known as "House Bill 2", which has generated a heated debate on transgender rights in the US and led to boycotts of the state by businesses, sports organizations and celebrities. The bill aims at determining access to public bathrooms based on a person's biological sex as stated in their birth certificate. This means that a transgender woman might be required to use the men's room, whereas a transgender man might find himself relegated to the women's room.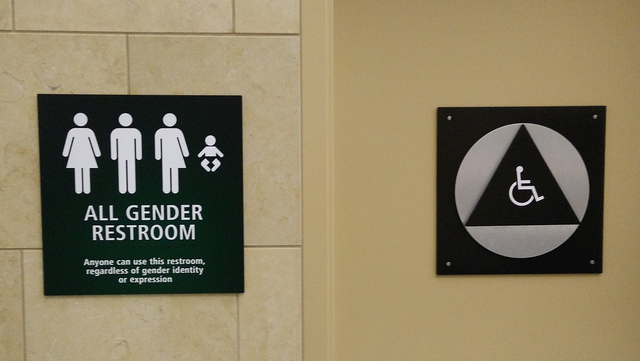 Flickr/Mike Gifford (Some rights reserved)
Among the many experiences of discrimination against LGBTIQ individuals, one relates to an everyday need as basic as sanitation.
---
LGBTIQ civil society organizations have denounced the discriminatory effect of the bill on individuals whose gender identity does not correspond to their sex assigned at birth. The bathroom bill stigmatizes transgender people and complying with the law renders them vulnerable to harassment, assault and abuse in bathrooms. By disregarding the personal security of transgender persons, the bill excludes them from access to safe sanitation. While the bathroom bill was adopted under the pretext of protecting women and girls' security based on irrational fears of assaults in public facilities, in fact, it is transgender persons who are those most likely to experience violence in restrooms, as powerfully illustrated in a recent report to the UN Human Rights Council.
On October 28, the US Supreme Court announced that it would review the case of Gavin Grimm, a 16-year-old transgender student who was excluded from the boys' restrooms at his school in Virginia. In August, the Gloucester County School Board appealed a decision by a Court of Appeals, which sided with Gavin Grimm and requested the school grant the student access to the boys' bathroom. After a series of differing judgements handed down by other US courts on transgender bathrooms, the Supreme Court's decision in Gavin Grimm's case will likely set a nationwide precedent. The Court will have to determine whether Title IX of the US Education Amendments of 1972 banning sex discrimination includes the prohibition of discrimination based on gender identity, as argued by the Obama administration in a comprehensive guidance letter to state-sponsored educational institutions in May 2016. The incoming US administration and expected appointment of a conservative leaning Supreme Court candidate to replace Justice Scalia cast doubt as to whether this progressive interpretation will be upheld.
At the same time, all-gender bathrooms will be introduced in public buildings in California as of March 1, 2017 based on Assembly Bill 1732. Gender-neutral facilities might redress some of the existing inequalities, but by themselves they will not be the end of the road towards adequate access to sanitation for everyone. Many transgender individuals prefer using the (binary) restrooms that correspond to their gender identity, highlighting the need for participation of those most concerned in deciding what measures to take.
At the international level, different human rights bodies have provided guidance on access to toilets and the right to sanitation for all persons, including LGBTIQ. The UN General Assembly has recognized that "the human right to sanitation entitles everyone, without discrimination, to have physical and affordable access to sanitation, in all spheres of life, that is safe, hygienic, secure, socially and culturally acceptable and that provides privacy and ensures dignity." For transgender persons, access to an acceptable sanitation facility that ensures dignity requires being able to make a choice according to one's gender identity. Ensuring dignity is of even greater need where "the use of public bathrooms, which are often sex-segregated, has been associated with exclusion, denial of access, verbal harassment, physical abuse and sometimes even the arrest of transgender and intersex individuals." In her report on stigma, the UN Special Rapporteur on the Human Rights to Water and Sanitation called on states to address socially entrenched stigma as a root cause of discrimination, including through the revision or amendment of laws perpetuating stigma, as is the case with the North Carolina bathroom bill.
Of course, bathroom politics represent but a fraction of the broader struggle for LGBTIQ rights. The deprivation of something as basic as sanitation is just a symptom of the underlying structural forms and causes of discrimination and marginalization. However, precisely because toilets affect all of us daily, they become a powerful tool to galvanize public attention. Intervening in discriminatory toilet politics can open up further avenues for overall societal change.
Gender identity-based discrimination must be understood and addressed in conjunction with other intersecting forms of disempowerment that tend to be relegated and rendered invisible. Only by acknowledging and addressing structures of exclusion and marginalization that pervade our societies along the lines of race, class, gender and disabilities can we achieve transformative change towards inclusive societies. Given the recent surge of hate crimes against minorities after the Brexit vote and the US elections, we must speak out even more forcefully against all intersecting forms of discrimination.