Special economic zones in Pakistan undermine women's human rights
Even though special economic zones promote industrial development, such development comes at the expense of land, labour, and human rights.
---
---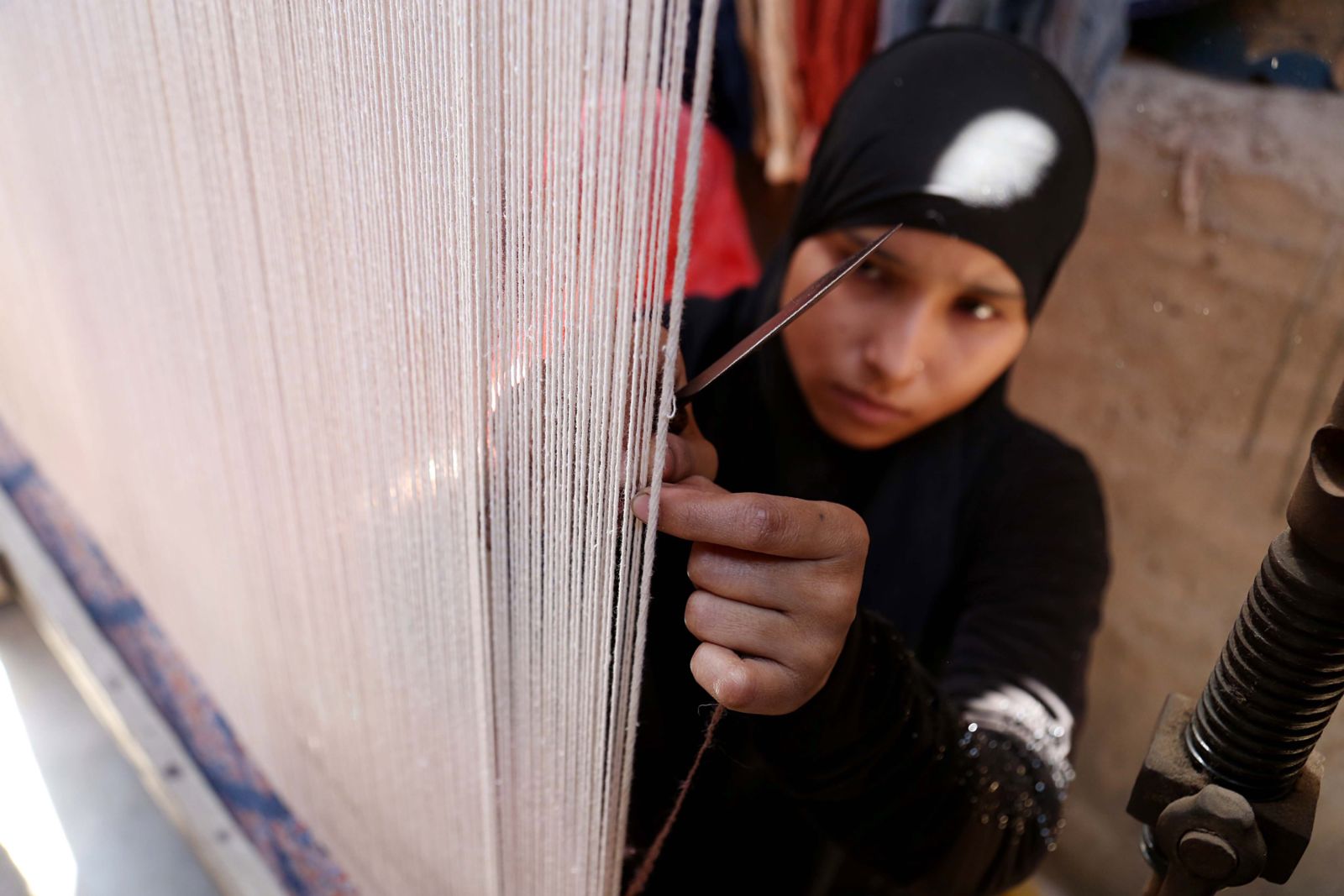 A Pakistani girl, Saira, works on a carpet loom at her home on the outskirts of Karachi, Pakistan, where there is a special economic zone (SEZ) in March 2018. Saira bibi earns around 150 Rupees (around 1.5 USD) a day to earn her livelihood. EPA/SHAHZAIB AKBER
---
With a burgeoning population of 212 million, Pakistan is a developing country, striving to achieve economic growth and new investment opportunities. The current government has indicated a commitment to the financial empowerment of women. However, at present, women constitute 49.2% of the population of Pakistan but make up only 24% of the labour workforce. This raises the pressing issue of improving women's participation in Pakistan's economy, which is a responsibility of the state under international standards set by CEDAW, Goal 5 of the SDGs and the UN Guiding Principles on Business and Human Rights.
Despite the global movement towards the attainment of human rights standards within economic activity, in Pakistan special economic zones (SEZs) continue to undermine the implementation of women's human rights—highlighting the need for urgent reform.
How do SEZs undermine women's rights?
With the development of SEZs, questions as to the protection of labour rights, more particularly the rights of women in the workforce, have been brought to the fore.
Even though the Special Economic Zones Act 2012 states that domestic labour laws must be complied with, it does nothing to clarify the nature and scope of the laws which are to be implemented and applies to special economic zones only. EPZs continue to be exempted from compliance with various domestic labour laws, which include the protection of rights such as social security, safe working environment, payment of minimum wage, and so on. Within these EPZs minimum wages are determined through special arrangements, strikes by employees are prohibited, and disputes regarding the implementation of labour laws are resolved by internal dispute resolution mechanisms as opposed to being dealt with by national courts. These have the potential to gravely impact the realization of labour rights, but more importantly, these issues continue to deepen structural inequalities between men and women within the labour workforce—discouraging women to participate in economic activity within SEZs due to lack of physical accessibility and a general absence of female friendly policies.
Even though these areas promote industrial development, such development comes at the expense of land, labour and human rights.
Furthermore, the development of CPEC has left several questions as to the implementation of labour laws unaddressed. The extent to which the new venture will affect the protection of women workers remains ambiguous as women constitute less than 10% of the total workforce in CPEC projects. Women's participation, much like in the labour workforce in Pakistan, remains low within SEZs as well owing to patriarchal attitudes, lack of access to employment opportunities, and lack of education. The greatest flaw of the system of SEZs is the secrecy around the zones, with little to no information being available concerning the participation of female workers within these industrial hubs.
Can SEZs be used as tools to enforce women rights?
Despite the economic benefits of SEZs, gender inequalities within their operations persist. The SEZ Act provides for limited protections and the status of national laws dealing with labour rights, anti-discrimination, and harassment at the workplace remains ambiguous.
Additionally, the current economic crisis amidst the spread of COVID-19 has further highlighted the marginalized status of female workers in Pakistan. Women continue to be employed in poorly paid jobs and are expected to be primary care takers at home as well—thus being at a disadvantage with regards to the economic downturn which will lead to more unemployment. This disadvantaged economic position of women will have far-reaching implications on the already limited participation of women in economic activity in the state.
Therefore, it is imperative that the state realizes the need to ensure women's participation in the workforce, which remains an obligation under various international instruments and is central to the achievement of the SDGs. The State must work toward modifying the basic ideology on which SEZs function. In particular, this should include further research into ways of regulating SEZs, introduction of specialized policies aiming towards gender integration, and through the development of adequate and effective redressal mechanisms to ensure the protection of women's labour rights at all levels.
---
This piece is part of a blog series focusing on the gender dimensions of business and human rights. The blog series is in partnership with the Business & Human Rights Resource Centre, the Danish Institute for Human Rights and OpenGlobalRights. The views expressed in the series are those of the authors. For more on the latest news and resources on gender, business, and human rights, visit this portal.
ORIGINALLY PUBLISHED: October 27, 2020
---
Zoha Shahid is a research associate at the Research Society of International Law, Pakistan. She has worked on the development of a National Action Plan on Business and Human Rights in Pakistan, a National Baseline Assessment on Business and Human Rights for Pakistan, and the development of a Guide and Training Manual for the Judiciary in Pakistan. Currently, she is working on a legislative assessment of Pakistan's Health Security Framework to assess its adequacy to deal with pandemics such as the COVID-19 crisis.
Seemal Hameed is a research associate at the Research Society of International Law. She has worked on the implementation of human rights obligations pertaining to women's and children's rights, and she has also assisted in drafting Pakistan's National Action Plan on Business and Human Rights, developing a guide for civil servants in Pakistan and in preparing a report on international human rights obligations for the Ministry of Human Rights.
Simrah Faruqi is a research associate at the Research Society of International Law. She has worked on criminal justice reform, the implementation of human rights obligations in the country and has assisted in capacity building exercises for Police and Prosecution. She has also extensively worked on developing a comprehensive study on Pakistan's State Practice for the Enforcement of Human Rights and has assisted in drafting of Pakistan's National Action Plan on Business and Human Rights as well as on a guide for civil servants in Pakistan.
---