US foreign policy aggravates human rights abuses in the Philippines during COVID
The Trump administration is enabling Duterte's abuses in the Philippines with unconditional support in the name of US foreign policy.
---
---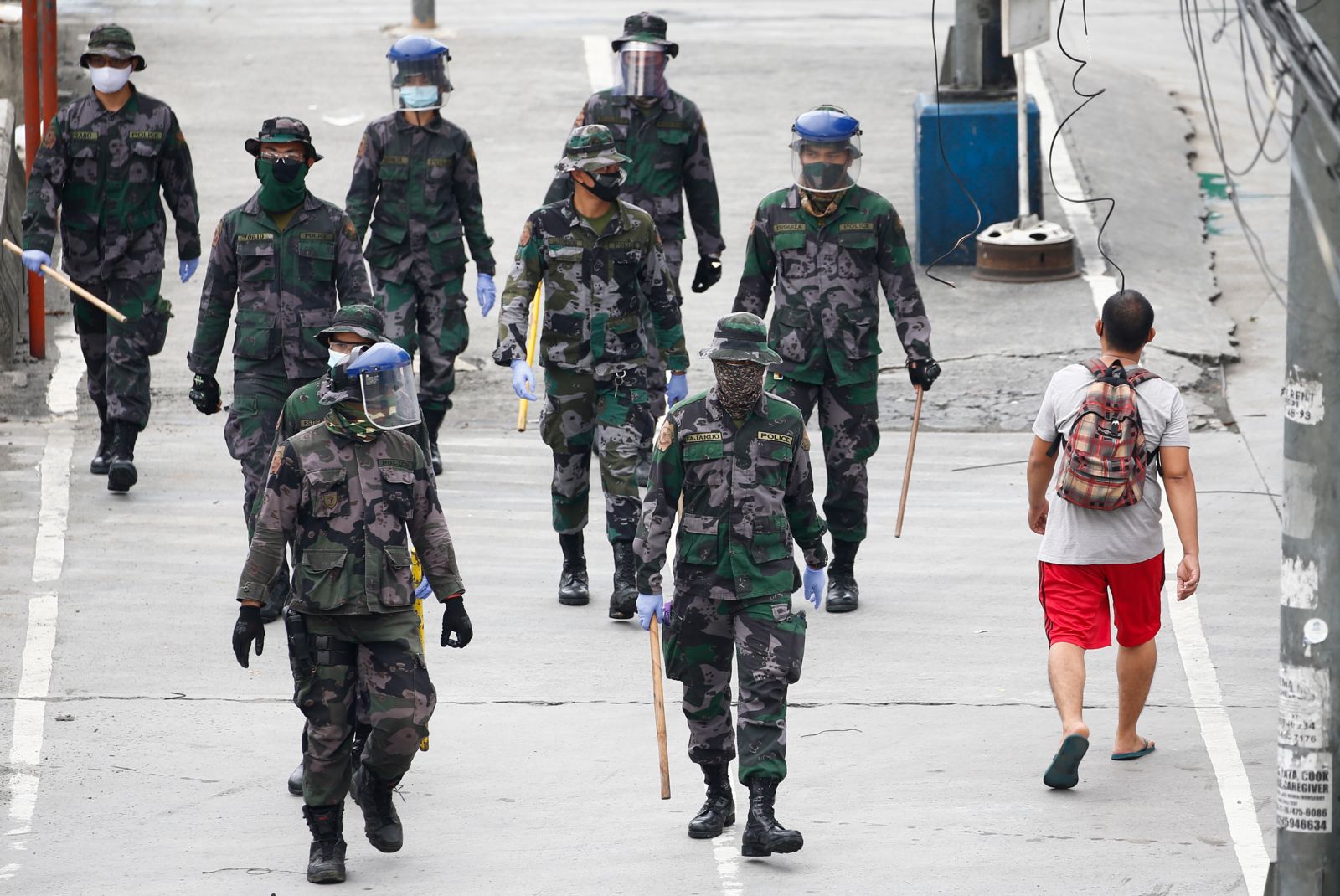 Philippine police are deployed to a quarantine checkpoint at the boundary of Rizal province, Pasig City and Marikina City, Metro Manila, Philippines 04 August 2020. Stricter quarantine protocols have been approved by Philippine President Rodrigo Duterte from 04 to 18 August in Metro Manila and the nearby provinces of Laguna, Cavite, Rizal and Bulacan. The move came after pleas from medical professionals for tighter measures due to rising Covid-19 cases. EFE/EPA/ROLEX DELA PENA
---
In the midst of a global pandemic and continent-spanning uprisings against police brutality and systemic racism, some states have resorted to old tactics of deflecting attention from the failures of governments towards cracking down on opponents. This is particularly the case in the United States and the Philippines. Of particular concern, however, is how the Trump administration is enabling Duterte's abuses with unconditional support in the name of US foreign policy.
In the US, President Trump, facing flailing polling numbers and an impending election, has claimed that uprisings in response to George Floyd's murder at the hands of Minneapolis police are being orchestrated by "anarchists," "antifa," and "outside agitators." By shifting the charge of violence from the police to these illusory agitators, Trump is attempting to win over those who are uninformed or unengaged in the matters that are gripping the country. Instead of focusing on the US' inability to deal with a pandemic, bailouts for big business at taxpayer expense, police brutality, and racial disparities in access to healthcare and affordable education, a state in crisis is attempting to paint activists and advocates as the real problem.
In the Philippines, President Rodrigo Duterte has taken this approach of deflection and repression a step further. Pre-COVID, the Duterte regime caused international concern with a plethora of authoritarian acts. In addition to Duterte's now infamous War on Drugs which has killed tens of thousands, Duterte has intensified his crackdown on press freedom and political dissent. This year, the Duterte Administration shut down the largest news network in the country, ABS-CBN, and most recently, trailblazing journalist Maria Ressa, co-founder of the digital news site Rappler, was convicted of cyber libel and is facing years in prison. The prosecution of Ressa is clearly politically motivated and legally tenuous; it also serves as a warning to any and all critics of the Duterte regime.
Similarly, Senator Leila De Lima has been detained for approximately three years on unfounded drug charges that were brought immediately after she opened an inquiry into the Duterte administration's use of extrajudicial killings during the Drug War. Free speech has been steadily eroding in the Philippines for some time now, but recent developments show just how much Duterte intends to consolidate power and silence dissent.
What has received less attention is Duterte's response to COVID-19 and a dangerous amendment to existing law dubbed the "Anti-Terror Law". As in the US, the government of the Philippines was caught completely off guard by a highly contagious virus. By bungling containment, testing, and tracking, and offering pitiful economic support to those forced into lockdown, the virus spread in poor communities without resources for Personal Protective Equipment or the financial cushion to stay at home. More recently, in line with Duterte's militaristic approach to most issues, police forces began conducting door-to-door searches for COVID positive individuals.
While Duterte applauded his own half measures, his administration took advantage of the chaos created by COVID to ram through the new Anti-Terror Law. This amendment gives the executive branch the ability to designate groups as terrorist organizations without oversight; arrest and wiretap suspects without warrants; and criminalize any support of designated organizations, such as posting in favor of them online or holding a banner during a rally, as its own violation of the Anti-Terror Law. The vague and overbroad nature of this law may also lead to the targeting and prosecution of critics of the Duterte administration abroad. This poses an exceptional danger in the US where the two countries share an extradition agreement.
Free speech has been steadily eroding in the Philippines for some time now, but recent developments show just how much Duterte intends to consolidate power and silence dissent.
There has been wide-scale pushback on the Anti-Terror Law in the Philippines. Celebrities, journalists, jeepney drivers, and former Supreme Court Justices have all aired their concerns about the law. While some have taken to the streets in indignation, many, attempting to social distance, have taken their criticisms to social media. As of the end of July, there are already at least 19 petitions to the Supreme Court of the Philippines challenging the legality of the bill, with more expected.
One major reason the Duterte administration is not listening to its own constituency on this issue is because of unconditional support from the United States. Duterte's reliance on the Philippine National Police and Armed Forces of the Philippines to support local and national political aspirations for consolidated power plays right into the United States' foreign policy playbook. First, an authoritarian regime relies on a security state to govern. Second, security state dependence on the US is fostered by provision of military hardware, training, and financing. Finally, if the authoritarian regime (or a successor regime) deviates from US national interests, a call is made for the security state to withdraw support from the regime. Case in point, Egypt, Indonesia, Latin America, and so on.
To illustrate, we can look at the recent sequence of events relating to the Visiting Forces Agreement between the US and the Philippines. In February, Duterte announced that he would terminate the VFA, a major military agreement allowing joint exercises and other key activities between the US and the Philippine military, most likely in response to the US' denial of an entry visa to Philippine lawmaker, Ronald dela Rosa, a key architect of the War on Drugs. However, after the US approved two arms sales worth up to two billion dollars in heavy weaponry, including attack helicopters and hellfire missiles, Duterte reversed course. While some analysts view this as a sign that the Philippines is becoming more concerned about Chinese territorial expansion, the more likely reason is that Duterte needs US dollars to buy the support of his security state amid a looming economic crisis precipitated by COVID.
Not all of Washington is united in a military-focused foreign policy or overlooking authoritarian regimes' human rights abuses. In June, Representative Ilhan Omar, along with eighteen colleagues, sent a letter to Secretaries Pompeo and Esper requesting a delay in the arms sales to the Philippines until proper oversight may be conducted. In July, Representative Jan Schakowsky, joined by fifty colleagues, penned a letter to Philippines Ambassador Romualdez calling for repeal of the Anti-Terror Law.
While these actions by legislators are laudable, they are insufficient to address the larger problem of US support for a dictatorship that is dismantling every form of democratic opposition. Instead of piecemeal censures, what must be done is a decisive break on the one thing enabling Duterte and his security state: US military aid to the Philippines.
This past May, the Malaya Movement and the International Coalition for Human Rights in the Philippines launched a campaign for a Philippine Human Rights Act that would suspend military aid to the country until state forces in the Philippines cease their widespread human rights violations. In recent weeks, the AFL-CIO echoed the campaign, calling on Congress to introduce and pass the proposed bill.
The content of the proposed bill is not radical or new; the PHRA is actually modeled on the Berta Caceres Human Rights in Honduras Act. What would be truly radical, new, and should be done, is to make the PHRA as well as the Berta Caceres Act starting points for a new people-focused US foreign policy approach.
ORIGINALLY PUBLISHED: August 20, 2020
---
Miles Ashton is an attorney based in New York City and member of the National Lawyers Guild - NYC Executive Committee and International Coalition for Human Rights in the Philippines' (ICHRP-US) Legislative Advocacy Committee.
Azadeh Shahshahani is the Legal & Advocacy Project Director at Project South and a past president of the National Lawyers Guild.
---