Grassroots justice organizations are deploying research to stem the tide of injustice
Legal empowerment has the potential to improve our ability to counter threats to human rights.
---
---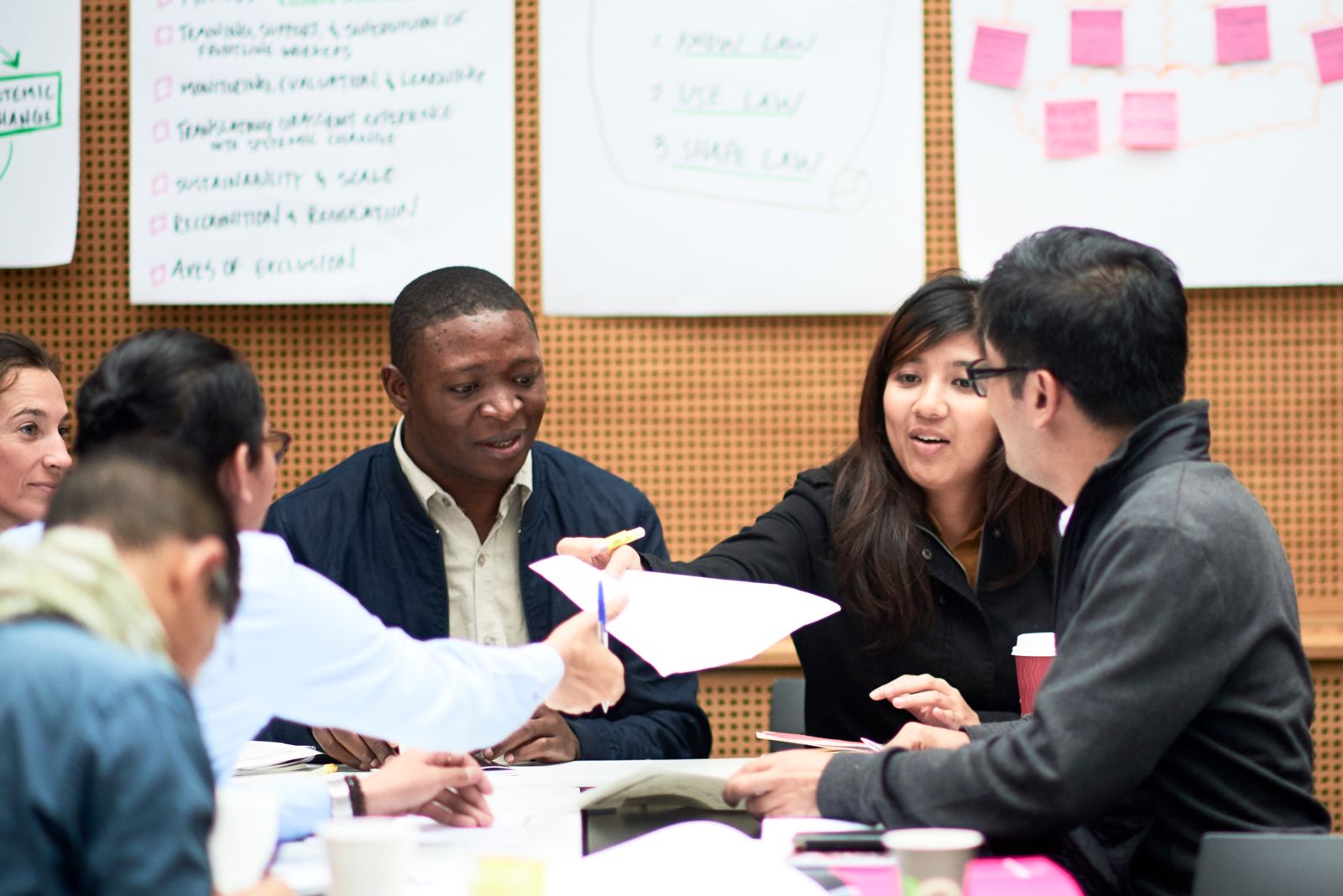 Participants in a 2016 executive course on legal empowerment leadership, organized in part by Namati. Source: Flickr / Central European University's School of Public Policy
Rising attacks on human rights, the rule of law, and rights defenders in recent years have been well-documented, with the COVID-19 pandemic accelerating many of the worst trends. A legal empowerment approach, led by the people most affected by injustice, has the potential to improve our ability to counter these threats to human rights.
The legal empowerment approach emerged during earlier struggles to establish democracy and uphold rights against all odds, in contexts like Apartheid-era South Africa, the post-conflict transitions of Liberia and Sierra Leone, as well as during the regimes of Suharto in Indonesia and Marcos Sr. in the Philippines. It offers a set of strategies to confront current challenges to human rights within societies across the globe. Unlike formal legalistic approaches to reform, with lawyers as protagonists, these strategies seek to reimagine justice by placing the affected people at the center of efforts to know, use, and shape the law and claim their rights.
Yet, much is still unknown about how to counter new and perennial threats to human rights, when human rights appear so much at a crossroads. In answer to those big questions, our organizations—Namati and Canada's International Development Research Centre—are excited to support a legal empowerment learning agenda, a collective effort to identify what works to uphold human rights in the face of structural inequality and exclusion and rapidly eroding public accountability.
The learning agenda has emerged from the shared struggles of members of the Legal Empowerment Network—the world's largest community of grassroots justice defenders. The agenda is now coming to life with a first round of eight action-research projects, led by organizations across Southeast Asia and sub-Saharan Africa. As of writing, new work is also starting up in Latin America on legal empowerment approaches to achieve environmental justice.
By linking research with innovative program experimentation, these projects seek to understand how legal empowerment strategies can build community power, increase the participation of women and marginalized groups in decision-making, and advance changes to laws and institutions that will help to deepen democratic and inclusive governance across a range of political contexts.
Central to the legal empowerment learning agenda is our own theory of change about how research and learning can play a key role in improving the ways that we work to build systemic change.
Linking learning to struggles for justice
Through participatory action research, these legal empowerment organizations are examining how their support to affected groups can contribute to systemic change and critical human rights gains. In different ways, the research projects are each centered around the lived experiences, active participation, and leadership of a range of affected groups.
This research model offers a powerful bridge between knowledge and action to advance the collective struggles for justice by the people whose rights are most directly at stake. The teams' methods involve a mix between deeper reflections on past efforts, such as strategic litigation and collective action on land and environmental struggles in Indonesia and the Philippines, and experimentation with new interventions in real-time to gauge their potential effectiveness, such as an early warning system for threats to women's and Indigenous peoples' land rights in Cameroon and Uganda.
Teams in Nigeria, Benin, Senegal, Kenya, and Zambia are developing much needed data to feed ongoing advocacy efforts of social movements, to guard against widespread forceful evictions or chart pathbreaking participatory redevelopment. In Malawi, Nigeria, Thailand, and Indonesia, teams are supporting marginalized groups, like sex workers, LGBTQI+, informal traders, and refugees and asylum-seekers, to identify how to open safe spaces for participation and engagement with public officials, in the face of discriminatory policies and abuse by police and public authorities.
Rather than relying on purely technical solutions to justice, in other words, these projects are taking an intersectional approach (e.g. marginalization based on gender, ethnic background, and economic status) to confront the power hierarchies that lie at the root of injustices.
Across countries, legal empowerment movement leaders are critically evaluating the impact of their strategies to advance rights and democracy. Live questions cut across the projects about what mix of collaborative or confrontational engagement with public officials could prove most effective to overturn exclusionary public policies or support ameliorative ones.
Comparative learning and lessons-sharing to grow the field
Together, the learning agenda projects reflect an intentional choice to distill lessons across countries, diverse issues, and populations. This approach is guided by an assumption that comparative learning—sharing what works—will help us deepen our impact, build solidarity among practitioners, and lay the groundwork for potential collective action in the future. Together, those efforts to build alliances across movements should make us more effective in countering anti-democratic trends, like closing civic spaces.
Namati and three regional "hubs"—Alternative Law Groups (Philippines), Kituo Cha Sheria (Kenya), and Justice and Empowerment Initiatives (Nigeria)—are supporting research teams to connect regularly to share lessons and findings, workshop solutions, and provide real-time feedback about the legal empowerment and research strategies they are using. The eight research teams are also sharing research findings with a broader community of practice across the Legal Empowerment Network, through a first set of regional convenings in West Africa and East Africa.
This learning is also an effort to reflect critically on "the theories of change and working methods of international human rights." When done ethically and with rigor, research and critical reflection honor basic notions of dignity and fundamental rights by conditioning us to see beyond our views and experiences and test our most basic assumptions. While evidence and deeper learning are still several years away, the action research and knowledge sharing already offer a glimpse of an approach centered on the leadership of the communities most affected by injustice, so that—to echo Meg Satterthwaite's poignant words—they can be the "authors of their own liberation." We welcome your reflections and guidance as we continue this collective journey.
ORIGINALLY PUBLISHED: November 10, 2022
---
Adrian Di Giovanni, JD (Toronto), LLM (NYU) is Senior Program Specialist at Canada's International Development Research Centre (IDRC) where, since 2011, he has spearheaded research focused on public law, human rights, and legal empowerment. @adrianidrc
Poorvi Chitalkar, LL.B (India) and LL.M (Toronto) is a Learning Agenda Specialist at Namati, where she helps practitioners in the Legal Empowerment Network engage in research and learning to deepen their impact, address knowledge gaps, and collectively tackle the most pressing issues facing the field. @PoorviChitalkar
---